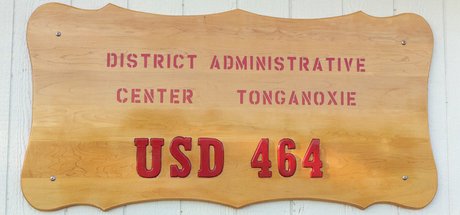 Tonganoxie USD 464 has a new board member. Phillip Welsh, a local engineer, was selected by a unanimous 5-0 vote at Monday's meeting. Amelia Brusven was absent. The board interviewed Welsh during the regular meeting, while another applicant, Doug Regehr, interviewed with the board through video chat.
Local residents might have seen an area man running Monday through Tonganoxie. The Johnson County resident has logged plenty of miles in his shoes in recent weeks. And on Monday, he made a stop near Tonganoxie. John Kohler has been involved in Run Across Kansas. It started from Kanorado at the Colorado line and made his way to mile 405 near the Tonganoxie city limits. He was greeted by family, friends and some school children at LIFE Child Care Center and Daycare.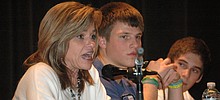 Longtime Tonganoxie High School teacher Andy Gilner has offered a unique extra credit to his students for more than 20 years. The American government instructor has encouraged students to write to their U.S. senators and representatives inviting them to visit THS and tell the senior class about their work in Washington, D.C. Lynn Jenkins, R-Topeka, has visited in the past and did so again last week. Jenkins, the current representative for Kansas' 2nd District, spoke to both juniors and seniors at the Tonganoxie Performing Arts Center. School officials stressed to Jenkins that the discussion with students should be educational and not a campaign visit. Jenkins will face Democratic challenger Britani Potter, an Ottawa school board member, next month in the general election.
---
Velkomen! Jeg heter Catherine Davidson, and this summer I got to experience an adventure that I will never forget.
Senior running back Jordan Brown was bouncing up and down with joy as Tonganoxie head coach Al Troyer spoke to his team following a Senior Night victory. Brown had just rushed the ball 35 times for 149 yards with two touchdowns, helping lift the Chieftains to a 22-16 overtime victory against Atchison. It was a workload that would have physically drained most. At the very least, force one into a resting position as his coach spoke. But Brown is not like most.
Today's events
Upcoming events
More events