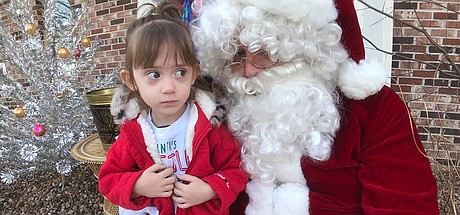 Youths will get a chance to have breakfast with Santa in December at Tonganoxie Middle School. The event will be 8:30-11:30 a.m. Dec. 15 at the TMS commons area. Cost is $5 per person for both adults and children. The fee covers a pancake and sausage breakfast, photo with Santa Claus, craft tables for the children and a silent auction. Tickets will be sold at the door. Proceeds will benefit the Tonganoxie High School After Prom.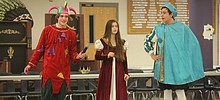 Longtime Madrigal Feaste organizer/volunteer Carolyn Day recalls the inaugural year for what has become a popular Tonganoxie tradition. Some 65 people attended the first Madrigal Feaste in 2002 for dinner and entertainment provided by 15 Chieftain Singers and 25 concert choir members. Roughly 120 Tonganoxie students performed and participated in this year's Madrigal Feaste for some 400 guests total Friday and Saturday. Day crunched the numbers over the weekend and found that 1,358 students have served right at 5,000 guests since the event's inception. The event "kind of gets in your blood," as Day described it.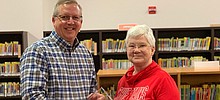 Tonganoxie USD 464 had a special presentation during Monday's regular school board meeting. The board recognized Ann Clark, who is retiring from her post as district business manager. Board President Jim Bothwell presented Clark with a plaque. They also celebrated with a cake for Clark. Tonganoxie USD 464 Superintendent Loren Feldkamp, who came to Tonganoxie this past July, thanked Clark for her service. He appreciated her staying longer with the district to help with training.
---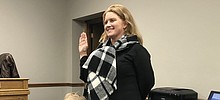 Lisa Patterson officially joined the Tonganoxie City Council on Monday. She also might have a future government official in the family. Tonganoxie Assistant City Manager Dan Porter swore Patterson in at the beginning of Monday's regular council meeting.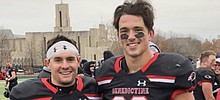 Tonganoxie High alums will be playing — and coaching — in a national championship football game Saturday in Florida. Benedictine College seniors Carl Hecht and Jared Sommers will be playing in the NAIA college football national championship at 5 p.m. CST Saturday in Daytona Beach, Fla. Fellow THS graduate Cole Holloway is a student assistant coach for the Ravens. No. 7 Benedictine (13-1) will take on No. 1 Morningside (14-0) at Daytona Stadium. Morningside, which is in Sioux City, Iowa, defeated No. 8 Saint Francis (10-3) in a thriller, 34-28, in overtime.
Today's events
Upcoming events
More events