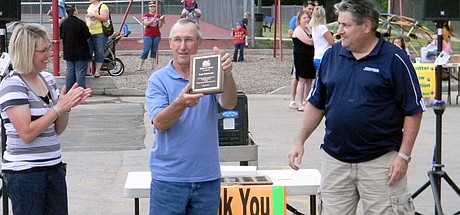 Tonganoxie celebrated a big milestone last year with a sesquicentennial celebration. For a third of that time, there also has been a Tonganoxie Recreation Commission. TRC will celebrate 50 years with its annual summer kickoff the first Saturday in June.
Members of the Tonganoxie High School Band and Vocal Music Department have much to chirp about right now. The department made school history April 13 when it received four "1" ratings at a Class 4A large-group state music festival in Atchison.
With a "significant tax increase" on the agenda, Kansas legislators should be prepared for a long stay when they return to Topeka in May, Sen. Tom Holland told a town hall meeting Saturday in Tonganoxie. At a forum at the Tonganoxie Veterans of Foreign Wars Post, Holland, D-Baldwin City, and Rep. Jim Karleskint, R-Tonganoxie, said much remained on the Legislature's plate for the 2017 session, including a new school finance formula, the state's 2018 fiscal budget and the need to craft a tax policy needed to close a $800 million revenue gap for 2018. Holland said he thought there would be quick consensus on the first two items, but that finding agreement on taxes would be difficult.
---
It was hard to order up a much better day for an Easter egg hunt. Tonganoxie Recreation Commission had its annual hunt Saturday, as an estimated 200 youths collected more than 5,000 plastic eggs at the Leavenworth County Fairgrounds soccer fields.
Tonganoxie track will be back to a more normal schedule heading into the final month of the season. Some THS track team members have competed at Wichita State University and Rock Chalk Park in Lawrence, but the full team will return this week to competition on high school campuses.
Today's events
Upcoming events
More events