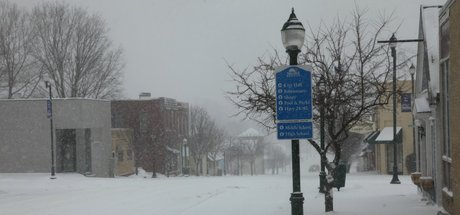 The Tonganoxie Public Works Department is asking city residents to use off-street parking as much as they can. Keeping the streets as clear as possible will benefit city workers as they work to keep clean streets as complete as they can. Snow started falling this morning. Tonganoxie is in a winter weather advisory as considerable snow is expected to fall today and tomorrow.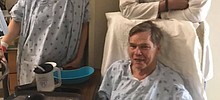 Michael Kelly has two Valentines this year in a February he likely never will forget. The Tonganoxie attorney, who has battled kidney problems much of his life, successfully accepted a donated kidney from Deb Simmons of Lawrence last week. Kelly, who had been on dialysis for years and had to have a hand amputated due to other health issues, said he felt like a new person after his five-hour surgery Wednesday, Feb. 6 at the Mayo Clinic in Rochester, Minn.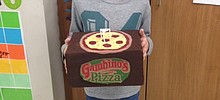 Sawyer Vestal's favorite menu item at Gambino's is pepperoni pizza. His love of said food was on display this week at his Valentine party in Stephanie Lang's third-grade class at Tonganoxie Elementary School. As the tradition of Valentine's Day goes, elementary school children exchange V-Day cards.
---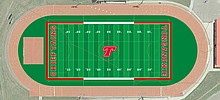 An ambitious funding campaign that would bring artificial turf to Tonganoxie High School's Beatty Field already is gaining steam. Tonganoxie USD 464 School Board Member Kaija Baldock reported that $137,500 in pledges already have come in for field turf at THS. The total price tag for artificial turf is $700,000, $450,000 would come from donors. The school board has pledged up to $250,000 in capital outlay funds for the project if the anticipated donor money level is reached. If $250,000 is raised by March 1, per a recent school board vote, the project can proceed with turf being installed by August and ready for the 2019-20 school year. The donation levels include advertising on the field, banners at the stadium or other advertising opportunities at Beatty Field.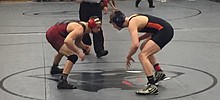 Tonganoxie High was in fourth place Friday night at a Class 4A regional at Paola. The Chieftains were sitting at 88.5 points after the first day of competition. Ottawa leads the standings with 125 points heading into Saturday. Louisburg is second with 106.5 and Eudora third with 98. Piper is in fifth with 78.5 and Anderson County sixth with 65. From there, it's Paola seventh (59), Perry-Lecompton eight (56), Prairie View ninth (50), Fort Scott 10th (48), Baldwin 11th (40), Bishop MIege 12th (27), Osawatomie 13th (20), Atchison 14th (18) and Bishop Ward 15th (3).
Today's events
Upcoming events
More events