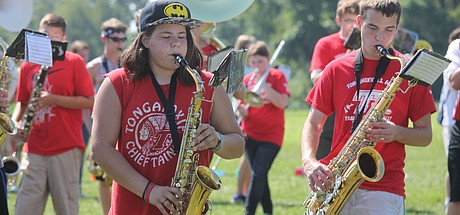 Summer traditionally has been the time of year when athletes knock off the rust with weeklong camps for varying sports. It's not the only activity in Tonganoxie with such a history. It's been something longtime Tonganoxie High School band director Charles Van Middlesworth has done with his students with an annual band camp in the summer. This year's camp took place the Aug. 10-14 on the THS football practice field.
This week's Face to Face profiles John Callaghan, deputy fire chief with the Tonganoxie City Fire Department.
Tonganoxie American Legion Post 41 presented the Tonganoxie City Fire Department with a large American flag to be flown at various functions. The post presented the 20-by-30-foot American flag to the fire department July 25 during the movie night at the new Tonganoxie Elementary School.
---
A former state employee has filed a federal civil lawsuit claiming she was fired from her clerk job at the Kansas secretary of state's office after she declined to attend prayer services held in the office.
Brian Engelken did his student teaching in this area about 25 years ago in suburban Kansas City and always wanted to return to the area. He got that chance earlier this year. Engelken is Tonganoxie High School's newest athletics director.
Today's events
Upcoming events
More events