Several local entities are trying to get ducks in a row as they look to move forward with upgrading facilities. Tonganoxie City Council Member Kara Reed gave a PowerPoint presentation Monday during the council meeting. She, along with fellow Council Member Jim Truesdell, are on the local infrastructure committee with representatives from the school district, recreation commission, library board and police department. One by one, representatives discussed challenges they're facing. Many talked about more space needed for storage and work area.
The Mirror newspaper picked up several awards at Saturday's Kansas Press Association Convention in Junction City. Newspapers from across the state compete in the Awards of Excellence competition. Members of the Washington Press Association from Washington state judged the many daily and weekly newspaper entries. The Mirror won 10 awards in non-daily division II, which is the middle-sized division among three for the non-daily newspapers.
Teams are starting to roll in for the inaugural Tonganoxie Chiefs' Challenge. Organizer Monica Gee with the Tonganoxie Friends of the Police said between 10 and 14 four-person teams have either signed up or indicated they plan to participate in Saturday's event. Overall, as of Monday night, Gee was expecting 20 teams so far. She expects several more teams to sign up on challenge day, which is Saturday in Chieftain Park.
---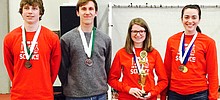 The Tonganoxie High School Science Olympiad team continues to make a name for itself on the state level. "Our first year at state, they didn't know how to pronounce Tonganoxie," said Christine Biel, one of the team's coaches. "They mispronounced it 20 times. "But now that we've been there awhile, they know how to pronounce Tonganoxie."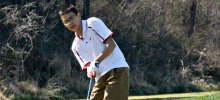 The wind didn't do the Tonganoxie High golf team any favors Monday at the Hayden Invitational in Topeka. THS placed 12th out of 13 teams with a team score of 428.
Today's events
Upcoming events
More events