Tonganoxie always is bustling with fireworks around Independence Day each year. Several fireworks stands dot the community for local residents to purchase supplies for their own personal fireworks shows. Fireworks can be lit from 8 a.m.-11 p.m. June 30-July 4, which this year is Thursday through Monday. City ordinance allows for those times to change based on the fire chief's discretion. Tonganoxie Fire Chief Jack Holcom said Monday forecasts are encouraging, as there are chances for rain Wednesday and Thursday.
This week's Face to Face profile features Tonganoxie City Council Member Curtis Oroke.
The Mirror is bringing back its cutest pet contest, and this time, an organization will be partnering with the newspaper for the monthlong contest. The Leavenworth County Humane Society is joining with The Mirror for this year's contest, which will run throughout July.
---
A sesquicentennial lasts a year, but organizers packed a bevy of entertainment and activities into a two-day event Friday and Saturday. After several months of planning, the event came together and the community joined together to celebrate the town's 150th anniversary milestone. Tonganoxie's first plat was made official in 1866. Co-chair for the event and Council Member Curtis Oroke said feedback was positive during the festival, which covered three blocks along Fourth Street and two blocks along Main Street.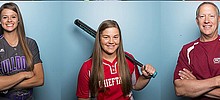 Kaw Valley League coaches recognized the talents of Tonganoxie High student-athletes competing in spring sports, but the THS team members also are getting recognized elsewhere in the area. The Lawrence Journal-World recently released its all-area teams, with several THS student-athletes, as well as some McLouth High student-athletes, earning accolades. THS and MHS both landed first-team selections in softball.
Today's events
Upcoming events
More events