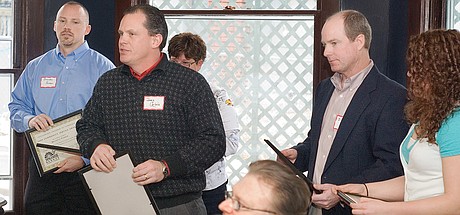 Tonganoxie High School will be in search of a new principal.
If you've always wanted to see your name in print, here's your chance. The World Company is looking for freelance writers for high school sports and news coverage.
Even Elsa and Anna are getting into the decorating spirit at the Tonganoxie Public Library. The characters from "Frozen" have a tree on display as part of the library's Festival of Mini Trees. OK, so the characters didn't actually put a tree together. Library staff created a few trees based on various book characters and gave those characters attribution.
---
The "Kansas City as barbecue capital" narrative is nothing new, and you've seen it propagated in this column more than once. I'd put it to rest except that fantastic barbecue joints keep popping up in Kansas City, each with its own take on smoked meats, sauces and flavor combinations, as well as unique identities and dining environments.
When an athlete is making the transition from eighth to ninth grade, he or she usually has to make a choice on which sport to specialize in.
Today's events
Upcoming events
More events