If you go exploring in Kansas, you'll find a town of fewer than 200 people hosting an outhouse tour every year on the Friday and Saturday before Thanksgiving. Kansas Sampler Foundation's Marci Penner told of the unique town during a slide presentation about her journeys in creating the "Kansas Guidebook 2: For Explorers."
Tonganoxie High School has $15,000 to use towards enhancing its science, technology, engineering and math departments. THS was a big winner Nov. 30 at Union Station in Kansas City, Mo., at the Burns & McDonnell Battle of the Brains award ceremony.
Tonganoxie is moving forward with plans for a new library, but the funding amount will likely require considerable compromise. Council Member Kara Reed, with a second from fellow Council Member Curtis Oroke, made a motion to earmark $3.75 million for a new library. That would cover building costs, along with land acquisition of a portion of the former Tonganoxie Elementary School land.
---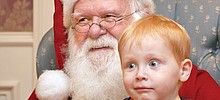 Youths can visit Kris Kringle next month in Tonganoxie. The annual Tonganoxie High School After Prom Breakfast with Santa Claus event will be 8:30-11:30 a.m. Dec. 9 at the Tonganoxie Middle School Commons Area. Cost is $5 per person (adults and children) and it Includes a pancakes and sausage breakfast. The price also includes a photo with Santa and a craft table for children. There also will be a silent auction. For more information, go to Facebook.com and search for "Breakfast with Santa" or "ths.bws." Proceeds will go toward THS after-prom festivities.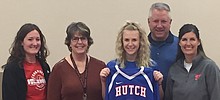 Lauren Willson didn't take much time contemplating the next step in her volleyball career. The Tonganoxie High senior signed a National Letter of Intent this last Thursday to play volleyball at Hutchinson Community College. "When I went for the campus visit, I just kind of fell in love with it," she said. HCC also is just right in terms of distance — a three-hour drive is not too close to home, but not halfway across the country, either.
Today's events
Upcoming events
More events