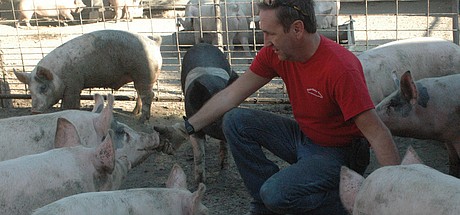 At Knapp Family Farms just outside of Basehor, family members have been raising pigs since 1954.
Bargain hunters should have plenty of opportunities to find deals this weekend. Tonganoxie will have its citywide garage sales this Saturday. Residents are encouraged to have their sales throughout the community on Saturday, though some have been known to get started on Fridays each year.
A Tonganoxie family's natural gas service has been restored after several weeks. Kansas Gas Service restored natural gas Saturday at the home of Scott and Shiela Wogomon in the Jackson Heights subdivision. Scott Wogomon said via email that service was restored after originally being shut off Aug. 18 following concerns that an unknown gas was permeating through ground beneath the home. The situation also affected two other residences in the area and had neighbors paying close attention to any strange smells of gas in the neighborhood.s
---
The THS Debate Squad started the 2015-16 season with a second-place overall finish Saturday at St. James Academy in Lenexa. The event hosted eight schools from northeast Kansas. In the open division, seniors Spencer Finkbiner and Dawson Jones finished in third place with a 4-1 record. Seniors Emma DeMaranville and Josh Lingo also finished 4-1 and placed fourth. Other debaters in the open division included sophomores Ethan Sandburg, Sierra Staatz, Dylan Tavis and Alan Hinds.
Tonganoxie defended its turf well last week at its home invitational. The THS girls team placed first overall and the boys squad second. Each team also had the top individual finisher. Tonganoxie finished with 23 points in the girls race, with Manhattan placing second with 48 and Wamego third with 53. Bishop Seabury placed fourth with 105 points. Pleasant Ridge, Bishop Ward, Wyandotte and JC Harmon also had runners compete in the race.
Today's events
Upcoming events
More events