Tonganoxie Public Library officials have been discussing expansion or the feasibility of building a new structure in some capacity for the last decade. In the past year, a library foundation was established to create a fundraising arm for new construction. With the 3/4-cent sales tax for Tonganoxie Water Park set to expire in a year, the Tonganoxie City Council is looking at the option of extending it, possibly 20 years.
Savanah Reynolds went from a grueling test in a school to a wild cow chase later in the day. Reynolds, a senior at Tonganoxie High School, had finished up with the ACT the morning of Sept. 10. When she finished testing that Saturday at Basehor-Linwood, she found a slew of texts and missed calls from her mother, DeeDee.
When you wish upon a star, it usually doesn't matter who you are, but this week it will be all Disney most of the time at Tonganoxie High School. This year's theme is The Wonderful World of Tongie, as Monday was Monster Monday and Tuesday Lion King Tuesday. Today is Disney Duo Day and there is a special event this evening.
---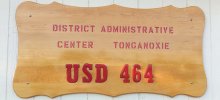 There's still time for anyone interested in applying for the open Tonganoxie USD 464 School Board seat to file at the district's central office. The board opted to make noon Oct. 3 the deadline for any additional applicants. The board plans to interview applicants at it October board meeting, which is 7 p.m. Oct. 10 at the TES library.
The Tonganoxie High boys soccer team only just started its most difficult week of the season Monday with the first of four games in the five days. The hectic week couldn't have started much better for the Chieftains. Behind stellar passing and dominating possession, Tonganoxie cruised to a 6-2 victory against Eudora at the Chieftain Park Sports Complex. Junior Zeb Huseman and senior captain Logan Williams led the way with two goals each. The win improved the Chieftains to 5-1, as THS now has won four consecutive matches.
Today's events
Upcoming events
More events