It appears outgoing council member Kara Reed, who served for five and half years on the Tonganoxie City Council, will not have a hand in selecting her successor. Reed announced at the Sept. 4 meeting that she would be resigning because she was moving outside the city limits. "It has been my great honor to serve alongside a dedicated staff and fellow elected officials on behalf of the city of Tonganoxie for the last five and a half years," she wrote in a letter she read to citizens, city staff and fellow members of the governing body. "It is with regret that I must leave before my term has expired, but a move outside of city limits makes my resignation necessary."
Tonganoxie High football helmets have a special sticker this year, but it's not to signify a big play or other activity. The sticker, which has the letters "AT" inside the outline of Kansas, brings awareness to the Kansas Athletic Trainers' Society initiative "Safety in Football Campaign."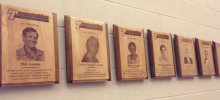 The Tonganoxie USD 464 Education Foundation will be inducting its ninth Education Hall of Fame as part of homecoming festivities Sept. 28. Criteria considered by the selection committee include outstanding service to the district by teachers, administrators and staff; outstanding contributions to education in the Tonganoxie community by school board members and other citizens; and outstanding achievements in the field of education by alumni.
---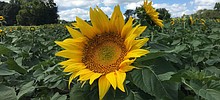 Though there were many activities happening during the Sunflower Stroll, one might have caught the eye most Labor Day Weekend. Artists could be seen around town painting various buildings and scenes.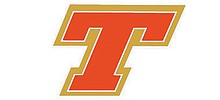 Tonganoxie High volleyball will take a 6-8 record into its home tournament tomorrow. THS will be home for an 8 a.m. meet as host to Ottawa, Eudora, Piper, Junction City, Gardner-Edgerton, Great Bend, Shawnee Mission Northwest, FL Schlagle and Topeka High. Tonganoxie lost Monday to Mill Valley, 25-10, 25-15, and Emporia, 25-18, 25-15, at Emporia. Bonner Springs won a Frontier League match, 25-20, 25-17, 25-16, on Tuesday at THS, but the Chieftains got back on track with a 25-16, 25-21, 25-14, sweep against Bishp Ward in Kansas City, Kan. THS is 6-8 overall and 1-3 in Frontier League play. The team also is home Monday against Kansas City Christian and Baldwin on Monday and Tuesday against Spring Hill. Tonganoxie returns to the road Sept. 27 at Louisburg.
Today's events
Upcoming events
More events