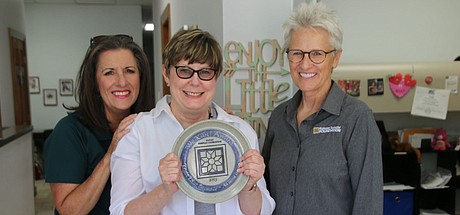 Local residents and neighboring business owners rolled in unannounced Thursday afternoon to Kelly Law Office. But they were part of a big announcement. Walking in behind them were Marci Penner and WenDee Rowe with the Kansas Sampler Foundation. Penner and Rowe presented Kelly with a We Kan! award as part of a surprise presentation. Kansas Sampler Foundation, an Inman-based non-profit, has been choosing ten recipients a year since 1993 to show appreciation for dedicated work in helping preserve and sustain rural culture. Kelly's award had the words "All about community" engraved on a round plate, which Elk Falls Potter created.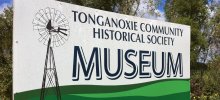 There won't be a Fourth Tuesday program this month at the Tonganoxie Community Historic Site because the historical society is having its annual picnic this month instead. The picnic will be 6:30 p.m. Saturday at the historic site, 300 W. Washington Street. The historical society will furnish the meat (fried chicken this year), while guests are asked to bring a covered dish, salad or dessert. Visitors are welcome.
The Kansas Supreme Court ruled Friday that the state's newest education funding plan is constitutional, seemingly bringing an end to an almost decade-long fight over the adequacy of K-12 funding.
---
Residents might notice new stickers and signs popping up around Tonganoxie promoting the local economy and encouraging folks to shop here. Tonganoxie Business Association unveiled 4x6 stickers and bumper stickers at its regular meeting May 17. TBA is trying to distribute them throughout the community and encourage people to put them in their businesses, on their vehicles and elsewhere.
The Tongie Tidal Waves swim team had its home opener Friday at Tonganoxie Water Park. The Tidal Waves squared off against the Lansing Sea Lions in a meet that Lansing held on for the victory, 690-619. There were some cooler temperatures for last week's meet, which also took place despite a dash of rain that morning.
Today's events
Upcoming events
More events