Wedding
Shahin and Collard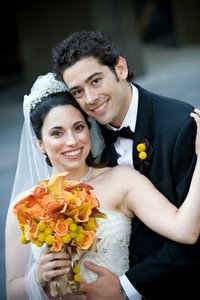 Julia Shahin and Justin Collard were married Sept. 29, 2007, in Los Angeles with Robert Ringler officiating.
The bride is the daughter of Mr. and Dr. Robert Shahin, Los Angeles. The groom is the son of Mr. and Mrs. Brad Collard, 5006 Shrine Park Road, Leavenworth.
Anisa Shahin, sister of the bride, Los Angeles, was maid of honor; bridesmaids were Melita Loncar and Christina Cinelli, both of New York; Lara Fogelman of Los Angeles; Elizabeth Collard, sister-in-law of the bride and groom, Santa Monica, Calif.
Case Collard, brother of the groom, Santa Monica, Calif., was best man. Groomsmen were David Studnicka, Leavenworth; Eric Mink, Denver; Matt Drake, Honolulu; and Ben Rhoden, Baldwin City.
Flower girls were Katie and Allison Thompson, Kansas City, Mo.
A rehearsal dinner was at the Friars Club of Beverly Hills and was followed by a roast where friends and family shared memories of the bride and groom.
Friends and family also attended a brunch on the day after the wedding at The House of Blues in West Hollywood. The reception was at The California Club.
The bride and groom honeymooned in the Maltese Islands in the Mediterranean.
he bride earned her high school diploma at Brentwood School in 1996, graduated from New York University, Tisch School of the Arts in 2000, and from the University of California at Los Angeles Anderson School of Management in 2005.
The groom, who is senior manager, IT Operations for Direct TV, in El Segundo, Calif., is a 1996 graduate of Lansing High School; he also graduated in 2000 from the University of Kansas School of Engineering and in 2005 from UCLA's Anderson School of Management.
The couple live in Los Angeles.