Engagement
Anton and McAllister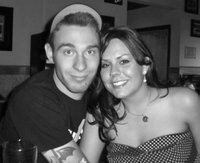 Jennifer Anton, Fairbanks, Alaska, and Matthew McAllister, Glendale, Ariz., announce their engagement and upcoming wedding.
The bride-to-be is the daughter of Thomas and Patricia Anton Tonganoxie, and is a 2004 graduate of Tonganoxie High School. She holds the rank of airman 1st class in the U.S. Air Force and is the Arctic Sentry editor/public affairs specialist/
The groom-to-be is the son of Patrick and Wendy McAllister of El Dorado and Kim O'Bannon of Shawnee, Okla., and is a 2002 graduate of El Dorado High School. He holds the rank of senior airman in the U.S. Air Force and is an aircraft armament systems technician on the F-16.
The couple plan a wedding in the fall of 2008 at St. Dionysios Greek Orthodox Church, Overland Park.