Engagement
Lindsey and Sturgeon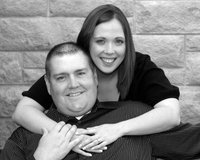 Larry and Donna Morgeson, Qulin, Mo., announce the engagement of their daughter, Ashley Nicole Lindsey, Gladstone, Mo., to Justin Lee Sturgeon, Gladstone, Mo., son of Ron and Linda Sturgeon, Tonganoxie.
The future bride is 2001 graduate of Twin Rivers High School and a 2008 graduate of University of Missouri-Kansas City Law School.
She is an attorney with Shook, Hardy and Bacon.
The future groom is a 1998 graduate of Tonganoxie High School and a 2002 graduate of Kansas State University.
He is employed with Cerner as a client results executive.
The couple plan a fall wedding in Parkville, Mo.