Anniversary
Smith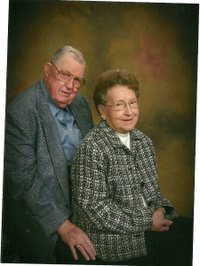 Mr. and Mrs. Carroll N. Smith celebrated their 75th wedding anniversary on April 4. As children, they grew up on neighboring farms and attended the same one-room schoolhouse in Settle, Ky. They were married in 1936 in Scottsville, Ky. Carroll and Wilma (Estes) Smith had two daughters when they left Kentucky on Aug. 9, 1941, to find a better life in Kansas. After working at several jobs, they started and operated Adolph Truck Equipment and Adolph Manufacturing in Kansas City, Kan., for several years before retiring in 1988.
They relocated their home in 1968 to Tonganoxie on a 40-acre farm. From that farm they've carved a 6-acre yard that they continue to mow and care for. Good health has enabled them to find much pleasure in that yard, including feeding birds and deer. The have been honored to ride in the Leavenworth County Fair for the past several years as the "Longest Married Couple" in the county.
Their daughters, Nancy (Terry) Mahany and Ann (Jim) Rumsey, as well as six grandchildren, 11 great-grandchildren and nine great-great-grandchildren helped them celebrate their anniversary with family and friends on April 3.