Anniversary
Deaton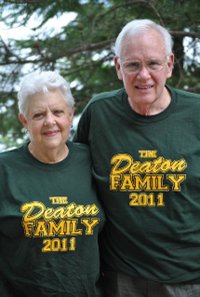 Larry and Nancy Deaton, Independence, Mo., celebrated their 50th wedding anniversary with a weeklong vacation in Ely, Minn.
Larry Deaton and Nancy Young were married Aug. 26, 1961, in Wichita.
They met in a summer church camp in Junction City and then married at Fairmount Congregational Church in Wichita. Larry is a 1957 graduate of Tonganoxie High School and Nancy graduated in 1958 from Wichita East High School.
Larry and Nancy enjoy spending time with their three children: Gretchen; Chris and wife, Alicia; and Todd and wife, Cori; and their families, all of whom reside in the greater Kansas City area.
They are especially proud of their five granddaughters: Destinee, Brooke, Shelby, Ryan and Grace.
Larry started his 33-year career in public education as a high school English teacher in Grandview, Mo. In 1967, they moved to Independence, Mo., where Larry served as a high school counselor and then assistant superintendent for the Fort Osage School District. Upon "retiring," Larry taught for Ottawa University and continued a public speaking career.
Nancy directed and taught for the St. Mark's United Methodist Preschool and then completed an 18-year career with the Fort Osage Parents as Teachers program.