Wedding
Wickey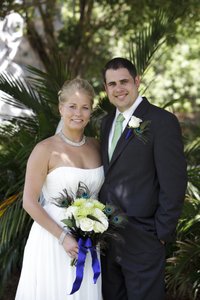 Megan Overall, Caldwell, and John Wickey, Tonganoxie, were married May 21, 2011, in Bonita Springs, Fla., with the Rev. Les Wicker officiating.
The bride is the daughter of Gage and Mary Overall, Caldwell.
The groom is the son of John and Ruth Wickey, Tonganoxie.
Maid of honor was Alissa Thurman. Best man was Tim Gornik.
The bride is a 2002 graduate of Caldwell High School. She earned a bachelor's degree in biology from Baker University in 2007 and will graduate with a doctorate in physical therapy from Rockhurst University in May 2012.
The groom is a 2003 graduate of Tonganoxie High School. Wickey earned a bachelor's degree in economics from Kansas University in 2008 and is employed with Wells Fargo in Overland Park.
The couple reside in Shawnee.