Anniversary
Groshong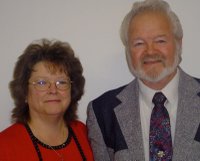 Frank and Elinor (Thorn) Groshong, of Pittsburg, Mo., will be celebrating their 50th wedding anniversary with an open house from 2-4 p.m. Saturday, Feb. 12 at the Wellsville Community Center with friends and family.
The couple were married Feb. 14, 1961, in Edwardsville.
Frank originally is from McLouth and is a McLouth High School graduate.
They have four children, Keith and Julie Groshong of Louisburg, Faye and Jim Jackson of Baldwinsville, N.Y., Francine and Vernon Bonbrake, of Sacramento, Calif., and Charles Groshong, Pittsburg; eight grandchildren; and one great-grandson.
Frank is semiretired from his drywall and painting business and enjoys teaching his Sunday school class, playing the guitar and reading.
Elinor has her own quilting business, loves family gatherings, sewing and Scrabble.