Engagement
Degraeve and Schuetz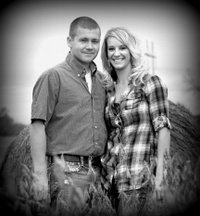 Tony and Julie Schuetz of Bonner Springs, announce the engagement and upcoming marriage of their daughter, Jill Schuetz, to Chad DeGraeve, son of Brenda DeGraeve and the late Ronald DeGraeve of Tonganoxie.
The future bride is a 2007 graduate of Bonner Springs High School and a 2011 graduate of the Academy of Aesthetic Arts. She is a medical aesthetician employed by Rock Creek Wellness Center in Lansing.
The prospective groom is a 2004 graduate of Tonganoxie High School. He is a union heavy-equipment operator and farms.
The couple plan to be wed July 9, 2011, in Bonner Springs with a dinner reception immediately after in Tonganoxie. Following a honeymoon trip to Cancun, the couple will reside in Tonganoxie.