Engagement
Hardee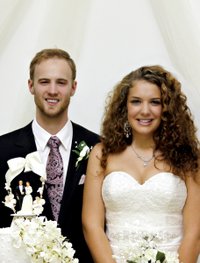 Benjamin Adam Hardee and Sarah Liberty Woodhead were joined in holy matrimony July 29, 2011, in Rock Creek Bible Church, Meriden.
The service was performed by the Rev. Brian Hardee, pastor of Rock Creek Bible Church and Benjamin's father.
The groom is the son of Brian and Charlene Hardee, Ozawkie. The bride is the daughter of Teresa Woodhead, McLouth, and Douglas Woodhead, Overland Park.
The maid of honor was sister of the groom, Amanda Hardee, Ozawkie. Bridesmaids were Corissa Woodhead, Raytown, Mo., sister of the bride; Melissa Zook, Topeka, sister of groom; and Shawna Lowe, Kearney, Mo., and Abby Miller, Eureka, Ill., friends of the bride.
The best man was Max Weiss, Bloomington, Ill., friend of groom. Groomsmen were Dale Hardee, Lawrence, cousin of groom; Taylor Zook, Topeka, brother-in-law of groom; Bradley McNary, Ozawkie, and Daren Durell, Urbandale, Iowa, and friends of groom.
A reception took place at Rock Creek Bible Church. Ushers and reception servers were Bradley Woodhead, Overland Park, brother of bride; Derek Sparks and Tyler Sparks, Tonganoxie, Parker Redel and Rhett Redel, Kansas City, Mo., and Gray Harker, Noah Harker and Harrison Harker, Leawood, all cousins of the bride; and Chris Dorr, Leon, Iowa, friend of groom.
Special guests were grandparents of the bride, Wanda Harker, McLouth, and Marlin and Peggy Woodhead, Lenexa, and the grandparents of the groom, Marcia Deihl, Topeka, and Smith and Shirley Hardee, Belton, Mo.
The couple spent its honeymoon in Naples and West Palm Beach, Fla.
The groom graduated from Solid Rock Christian School, Ozawkie, received a bachelor's degree in biblical exposition from Moody Bible Institute, and a master's in theology from the University of Bonn in Bonn, Germany. He is the youth pastor and contemporary worship leader at St. Luke's Evangelical Free Church in Wellington, Mo.
The bride graduated from McLouth High School. She received a bachelor's degree in Bible and biblical counseling from Calvary Bible College. She is employed as director of youth and activities at Wellington-Napoleon Christian Community Center in Wellington, Mo. The couple currently lives in McLouth and will soon move to its new home at 9810 Howe Road, Lexington, Mo., 64067.