Engagement
Parrett and Collins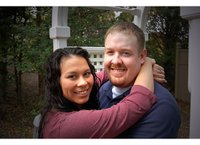 Kellie Bough and Stacy and Tonya Collins, all of Stockton, Mo., announce the engagement of their daughter, Kelsie Ann Collins, to Derek Anthony Parrett, son of Doug and Karen Parrett, Leavenworth.
The future bride is a graduate of Stockton High School in Stockton, Mo. She studied business administration through American InterContinental University and is a critical care technician at St. Francis Health Center in Topeka.
The future groom is a 2007 graduate of Tonganoxie High School. He is studying criminal justice through Kaplan University and is a corrections officer at the Shawnee County Juvenile Detention Center in Topeka.
The couple will marry on Saturday, Jan. 21, 2012, at the Capitol Plaza Hotel in Topeka, Kan., where they now reside. They will celebrate with their son, Daniel Alden, and family and friends.