Anniversary
Frye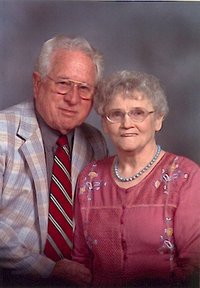 Lyle and Merle Frye, McLouth, will celebrate their 70th wedding anniversary with an open house at their home from 2 p.m. to 4 p.m. Saturday, Oct. 27.
Merle DeBoard and Lyle Frye were married Oct. 27, 1942 at the Church of the Nazarene in Newark, Ohio, by the bride's father, the Rev. F.N. DeBoard.
Lyle served in the military for 33 years and the Lawrence postal service for 30 years. Merle was a die-cut operator for many years at Hallmark Cards, and a daycare operator for many years, both in Lawrence.
They have lived in McLouth for 21 years and are members of the McLouth Nazarene Church.
They have three children, Carolyn Bond, Lecompton; David Frye and
spouse Debi, Oskaloosa; and Cindy Pennel, Oskaloosa; 12 grandchildren, 42 great-grandchildren, and two great- great-grandchildren.
Cards may be sent to the couple at 406 E. Lucy St., McLouth, KS 66054.