Engagement
Smith and Beach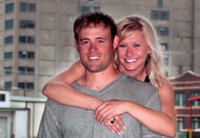 Jessica Smith, Topeka, and Russell Beach, Tonganoxie, announce their engagement along with their parents, Paul Smith and Pamela Smith, both of Topeka, and Jerry and Terri Beach, Tonganoxie.
The future bride is a 2005 graduate of Seaman High School. She graduated from the University of Kansas in 2009 and is a Sales & Customer Service Manager at Antigen Laboratories in Liberty, MO.
The future groom is a 1999 graduate of Tonganoxie High School. He graduated from JATC Electrical
Apprenticeship School in 2005 and is a Foreman Electrician at Capital Electric in Kansas City, MO. The couple plan an Oct. 6, 2012, wedding at First Congregational Church of Tonganoxie.