Engagement
Moore and Conner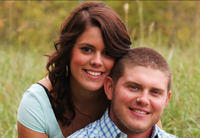 Jamie and Angela Moore, Tonganoxie, announce the engagement of their daughter Lacey Marie Moore to Joshua William Conner, of Carrollton, Missouri. The future bride is a 2010 graduate of Tonganoxie High School and a 2013 graduate of Kansas State University. She is currently employed with Peoples Bank in Lawrence, Kansas.
The future groom is the son of John and Lisa Conner, Carrollton, Missouri. He is a 2009 graduate of Carrollton High School and a 2011 graduate of Linn State Technical College. He is currently employed with Capital Electric
Line Builders. The couple will be married on September 21, 2013 in Bonner Springs, Kansas.