Engagement
Lindsay and Luft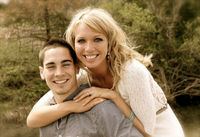 Dennis and Kimberly Lindsay are pleased to announce the engagement of their son, Dennis (DJ) Lindsay, to Leslie Luft, daughter of Michael Luft.
DJ was born in Leavenworth and raised in Tonganoxie, KS. He is currently in his senior year of college with a full scholarship for track and field at Wichita State University where he met Leslie. Leslie is from Ida Grove, IA and moved to Kansas to pursue her education. The two met almost three years ago in a class they shared together.
Leslie graduated with honors this May with her EMT license and Bachelor of Arts in Exercise Science and is currently applying to graduate programs in the medical field.
DJ and Leslie are finalizing their plans for their upcoming wedding where many of their family and friends will gather at Schwinn Produce Farm in Leavenworth, KS on September 20, 2013.
Anniversary
Freeman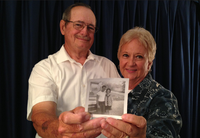 David and Virginia (Ryan) Freeman, Topeka, will celebrate their 50th wedding anniversary on September 6th, 2013. David is the son of Damon and Opal Freeman. Virginia is the daughter of Rolland and Betty Ryan of Linwood Ks. The couple were married at the Tonganoxie Christian Church on September 6th, 1963. A reception hosted by their family will be held Saturday, September 7th from 5-7:30 at the Sunrise Optimist Club, 720 NW 50th St, Topeka, KS. Their children are: Deb Hall [Wayne] of Berryton, Ed Freeman [Tina] of Lawrence, Darrin Freeman [Rhonda] of Lansing. Grandchildren: Kristen & Kelsey Hall, Chandler & Brody Freeman, Karleigh & Zach Freeman. Great Grandaughter: Raeleigh Blevins. No gifts please.