Wedding
Naff and O'Hare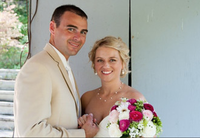 Amy Naff and Daniel O'Hare were united in marriage on September 7, 2013 at Circle S Ranch in Lawrence, with Rev. Joe Stiles officiating.Their reception was held there immediately following the ceremony.
The bride is the daughter of Mark and Cindy Naff, of Lawrence, KS. The groom is the son of Mike O'Hare and Sheila O'Hare, of Tonganoxie, KS. The matron of honor was Amanda Philhour, sister of the bride. Maid of honor
was Sarah Naff, sister of the bride. Bridesmaids were Becky Squires, Heather Klotz, and Erin Smith. The best man was Clayton McDaniel, friend of the groom. Groomsmen were Tom Newman, Richard Reischman and Chad Philhour.
The bride is a graduate of Lawrence High School and University of Kansas Nursing School. She is employed as a registered nurse at Kansas University Medical Center. The groom is a graduate of Tonganoxie High School. He is employed with Douglas County Sheriff's Office. The couple reside in Tonganoxie.