Wedding
Allen and Hinrichsen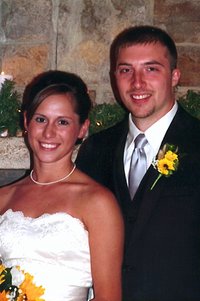 Nicole Allen, Tonganoxie, and Patrick Hinrichsen, Lecompton, were married Dec. 15, 2012, at Kanwaka Township Hall in Lawrence with Eric Sanford officiating.
The bride is the daughter of Dean and Debbie Allen, Tonganoxie.
The groom is the son of Doug and Margie Hinrichsen, Lecompton.
Candle lighter was Tina Allen. Ushers were Dan and Will Hinrichsen.
A reception was given at Reynolds Lodge at Lake Shawnee in Topeka.
The bride is a 2007 graduate of Tonganoxie High School. She earned a bachelor's degree in Agricultural Science from Kansas State University in 2011. She will receive a master's degree in Agricultural Education from K-State in May 2013 and will student teach during the spring 2013 semester in Marysville.
The groom is a 2006 graduate of Perry-Lecompton High School. He earned a bachelor's degree in business from K-State in 2010 and is employed with Autosound in Topeka.
The couple will reside in Manhattan.