Wedding
Nagely and Kissinger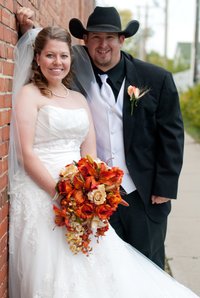 Bret Nagely and Alexandra Kissinger were married on October 6th 2012, at Tonganoxie Christian Church in Tonganoxie. Parents of the couple are Michael and Tammy Kissinger, of Tonganoxie and Donald and Joetta Nagely, of Abilene. The Bride is the grand-daughter of Robert and Neal Kissinger of Tonganoxie and the Late Richard and Nora Skaggs. The Groom is the grandson of Juanita Nagely of Enterprise and the late Milton Nagely & the late Dean and Glenda Underhill.
Samantha Davis, friend of the Bride, served as maid of honor. Jordon Nagely, brother of the groom, served as best man.
Bridesmaids were Casey Gerhardt, Lindsey Ogden and Ashley Lorenzo. Groomsmen include Jordan Shorter, Lj Ogden and William Irvine. Ushers were Clinton Kissinger, Justin Powell, Brian Ogle and Morgan Shorter.
A reception, dinner and dance were held at the Leavenworth County Fair Grounds.
The Bride is an LPN at Stevens County Hospital in Hugoton, KS and a graduate of Kansas City Kansas Community College. The Groom is a graduate of Manhattan Area Technical College and works for Tri-County Electric in Hooker, Oklahoma.
After a honeymoon in Hawaii, the couple reside in Hooker, Oklahoma.
Engagement
Weller and Oxley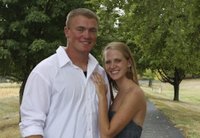 Christy Ann Weller and Joseph Wayne Oxley have announced their engagement.
The bride-to-be is the daughter of Chris and Marilyn Weller of Tonganoxie, Kansas. She currently attends The University of Kansas Medical Center. She graduates in May, 2013 with her Masters of Occupational Therapy.
The groom-to-be is the son of Glenn and Vicki Oxley of Olathe, Kansas. He is a recent graduate of MidAmerica
Nazarene University with his Bachelors in Secondary Education.
The couple is planning a June 1, 2013 wedding in Tonganoxie, Kansas.