Anniversary
Waters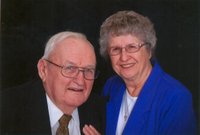 Vernon and Joy Dean Waters, rural Leavenworth, will celebrate their 60th wedding anniversary on March 30, 2013.
Vernon Waters and Joy Dean Porter were married March 29, 1953, at the High Prairie Church in Leavenworth County by Rev. Robert Reinmiller.
An open house will take place 2-5 p.m. Saturday, March 30, at High Prairie Church, 26480 187th St., Leavenworth.
Their children and families will host the event. All friends and relatives are invited. No gifts please.
Engagement
Baggett and Robinson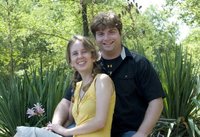 Kirk and Lenora Baggett, Tonganoxie, announce the engagement and approaching marriage of their daughter Kirsten Baggett to Scott Robinson son of Connie Fullerton, Lake of the Ozarks, and Jack Robinson, Osawatomie. Kirsten and Scott will both graduate from Emporia State University this spring. A June wedding is being planned.