Engagement
Naff and O'Hare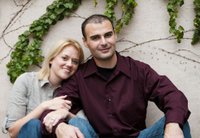 Mark and Cindy Naff, Lawrence, announce the engagement of their daughter, Amy Naff to Daniel O'Hare, of Tonganoxie, Kansas.
The future bride is a 2006 graduate of Lawrence High School. She earned a bachelor's degree in nursing from Kansas University and is a registered nurse at KU Medical Center.
The future groom is the son of Mike O'Hare and Sheila O'Hare, Tonganoxie. He is a 2005 graduate of Tonganoxie High School and is employed with the Douglas County Sheriff's Office.
The couple plan a Sept. 7, 2013, wedding at Circle S Ranch in Lawrence.