Anniversary
VanderStaay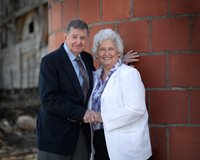 Eugene and Clara (Flint) VanderStaay celebrated their 60th wedding anniversary on May 11, 2013.
A Mass took place May 5 at the Immaculate Conception Church, in Leavenworth where they were originally married at the Old Cathedral.
A reception took place May 5 at Schwinns Event Barn, 17624 Santa Fe Trail, Leavenworth.
The couple's children and their families hosted the event: Theresa and Mark Smith, Rebecca and Joe Manderscheid, Mark VanderStaay and Kathleen and Tony Poppe. The couple has 10 grandchildren and four great-grandchildren.