Engagement
Sanborn and Dent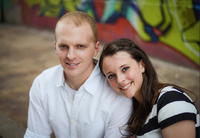 Amber Sanborn and Jacob Dent are happy to announce their engagement and forthcoming marriage.
The bride-to-be is the daughter of Joe and Trisha Sanborn of Tonganoxie. She graduated from Ottawa University
in 2012 with a degree in business administration. She is employed as a Purchasing Assistant for Cimarron Lumber & Supply.
The groom-to-be is the son of Russ and Jane Dent. He is employed by the Unified Government as a police officer
in Kansas City, KS. Both the bride and groom are 2007 graduates of Tonganoxie High School.
The wedding will be held in Tonganoxie, KS in September of 2014.