Engagement
Davis and Holland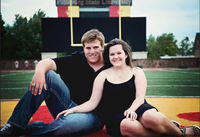 Gary and Donna Davis, Tonganoxie, are pleased to announce the engagement of their daughter, Taylor, to Cody Holland, son of Chuck and Sharon Holland and the late Diana Holland, Neosho, MO.
Both Taylor and Cody will graduate in May from Pittsburg State University with degrees in education.
The wedding will be June 7, 2014 at First United Methodist Church, Lawrence, KS.