Wedding
Gloshen and Ditty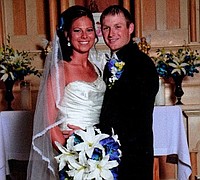 Emily Irene Gloshen and Matthew Monroe Ditty wed on July 11, 2014 at Historic Holy Family Catholic Church in Eudora, Kansas.
The bride, daughter of Dennis and Vicki Gloshen of Eudora and the groom, son of Cary and Leigh Ann Ditty and the late Teresa (Theno) Ditty.
The Maid of Honor was Natalie Gloshen, sister of the bride and the Best Man was Zach Ditty, brother of the groom. The ring bearer/junior best man was Jason Ditty, the couples son.
The reception was held at Maceli's in Lawrence, Kansas.
The couple resides in Tonganoxie, Kansas.