Anniversary
Skeet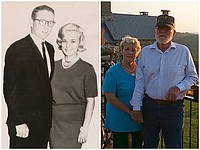 Billy and Debbie Skeet of Tonganoxie Kansas, are celebrating their 50th Wedding Anniversary.
The couple were married August 30th 1965 in Oklahoma, with a reception hosted by their parent's Harry and Audrey Skeet, and Thomas and Delores Dolan at the Reno Methodist Church.
The couple have two children, Rebecca Grube, and Steven Skeet , and four Grandchildren.
The family celebrated the occasion by taking a trip to Branson Missouri.