Linwood families start 4-H club
Sometimes smaller can mean better.
Stacy Tallman, Kelly Owsley and each of their children can vouch for this.
Last October, Tallman and Owsley set out to start their own 4-H Club, the Lucky Clovers, from the Linwood area.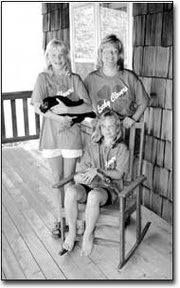 "We got together and just decided that we needed a club in our area," Owsley said. "There's more people than we ever imagined."
Originally, they expected five or so families to participate. However, that number has grown to 15 families with a total of 23 members. Clearly, Tallman and Owsley got even more than they bargained for.
"Everything has gone pretty smoothly," Tallman said. "It's still a lot of work, though."
Owsley agreed.
"The only drawback is I can't always find the information that I need at the extension office," she said.
For Tallman and Owsley, it's a small price to pay for them to gain all the advantages of having a much smaller 4-H club.
Tallman's and Owsley's children have had more opportunities to get involved with the various projects and other activities in the newer and smaller club.
"We have good parent leaders for the different projects, and they do more than their share," Tallman said.
And the officers are young. Katie Tallman, 12, is president; Kelsey Tallman, 11, is secretary; Cally Owsley, 10, is parliamentarian; and Cody Owsley, 12, is treasurer. (All of the children have been in 4-H for a total of four years.)
"It's kind of easy to run," Katie said. "Really, it runs itself and it's not very hard since we have a bunch of little kids in the club. We can also do more things."
Both parents feel that this is another example of opportunities that exist with a smaller club.
"Stacy and I went to school together," Owsley said. "We both are interested and active in what our kids do. We didn't think they were getting what they needed out of 4-H in the other club. Now, they are better off and happier."
And involved.
Tallman's children are involved in most of the same projects, such as rabbits, poultry, cooking and photography.
"My favorite is rabbit and chicken," Katie Tallman said, "because I like animals."
The Tallmans have 13 chickens and four rabbits.
Both girls are excited when the Leavenworth County Fair rolls into town.
"I just love going to the fair," Kelsey Tallman said.
Katie Tallman agrees. She said she enjoys looking at various projects, making comments and finding out what the judge thought of the projects. They also like helping out friends and riding the rides.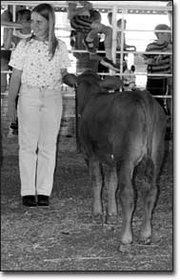 Last year at the fair, both of the girls received greens in poultry because they were in the wrong category, which disqualified them. This year they hope to not make the same mistake. With their cats, they got blues. In cooking, both girls received a purple, blue and red. In photography, Kelsey went home with two purples and a blue. Katie had one blue and two reds.
"This is the first year that they have done rabbits," Stacy said.
"I really like it," Katie said.
So far, they have gone to two or three shows and have learned a lot with their 3 1/2 -month old rabbits.
The Owsleys tend to stay busy also.
Cally is in food, sewing, leather, photography and bucket calf and Cody participates in woodworking, beef and shooting sports.
Shooting sports is new and growing. Cody competed in the air rifle shoot July 22 and received a purple.
Last year, Cody competed at state with his woodworking project and received a purple after getting reserve champion at the county fair. His project was a mantle clock. This was the Owsleys' first trip to the state fair.
This year Cody is submitting an entertainment center to be judged.
Cally is working on a skirt and vest for sewing. Photography has been a challenge this year because she had to learn to use a manual camera. Cally also went to a pre-fair bucket calf show, where many of the kids learned tips about showing their bucket calf.
Besides being active in 4-H, the Owsleys stay busy with sports such as baseball, soccer, track and gymnastics.