Mount Herman campers find spirituality and fun
The shady 23-acre site of Camp Mount Herman five miles northwest of Tonganoxie is one of the best-kept secrets in the county.
John Burkholder, manager of Camp Mount Herman, said that, despite the camp's discreet location, word does get out about the Church of the Brethren property.
For instance, last week, 50 high school students, members of Church of Christ congregations throughout the state, attended a week-long camp there.
Like all campers at Camp Mount Herman, the youths slept in no-frills cabins near the mess hall. Each of the 10 cabins is divided into two units and each unit holds four sets of bunkbeds.
In today's world of surround-sound media noise one might predict that teens attending the camp would miss the clatter.
But not so, said Jim DuBose, pastor of Topeka's Central Church of Christ and director of last week's camp. He said he's never heard a complaint.
"You've got to get away from the cell phones, pagers, telephones, TVs, VCRs and headsets," DuBose said. "We like to have no outside interference so they're free to concentrate."
And what the kids concentrate on, DuBose said, is the Bible.
Crystal Thomas, 18, Topeka, sat in the sun reading her notes last Wednesday morning. She said the natural setting of the camp is conducive to scripture studies.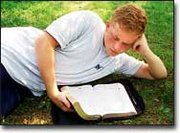 "I really like nature and getting out here with God and having a week off from work and home," Thomas said. After a pause, she added. "It's nice just being able to be quiet."
As she spoke, one of the few sounds of civilization, aside from the clatter of pots and pans in the mess hall's kitchen where ladies were preparing lunch, came from down the lane where Joe Zuck. 86, wielded a weed trimmer.
Each summer, Zuck shoulders the mowing and trimming of 23 acres. It takes a lot of time and work to keep the place in shape, he said. But he added that he doesn't mind the work.
Looking fit and younger than his age, Zuck took a rare few minutes away from his work to talk about the camp's history.
He recalled that in 1944, three men Hilton Harman, a Kansas City, Kan., attorney and pastor of the Kansas City, Kan., Church of the Brethren, Ira Brammel, a school superintendent from a neighboring community, and Raymond Flory, a professor at McPherson College arranged to purchase the property for the Church of the Brethren.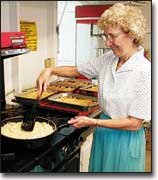 At that time, Zuck said, the property was in use as a camp. In fact, two of the camp's original buildings the mess hall and chapel still are used today.
DuBose said that even though the camp's quiet atmosphere is perfect for the daytime study sessions, during the evening hours, the noise picks up.
The first event includes relays, which might mean frisbee throws or games of broom hockey in the mess hall. And then there's entertainment.
"We have a drama group from a Christian college perform, or we have a band," DuBose said. And then, after the campers may have participated in a "Wacky Talent Show," too, they unite for a spiritual session, complete with a campfire ceremony and time for the campers to participate in a "Word-up" activity. This, DuBose said, is when campers comment on positive activities they've seen other campers doing during the day.
DuBose, who brings three age groups, elementary, junior high and high school, to camp for three consecutive weeks, said the camp's popularity is due in part to a resurgence of faith.
"I think there is a level of commitment to God that the kids are looking for," he said. "It's something to hang on to."
Burkholder said the camp is in near-constant use from May through October.
Some of the camp groups are made up of Church of the Brethren members, some, for instance, the Church of Christ campers, come from other denominations. Camper fees, because of intensive volunteer labor, such as Joe Zuck's mowing time, remain low.
A week at camp costs about $110 per camper, and if groups bring their own food and cooks, the costs can even be lower. For instance, DuBose said each of his campers pay $80 for the week. Also, an RV area is available. During times when the camp's not in use by weeklong groups, it can be rented on a daily or weekend basis.
During the years, improvements have been made, Burkholder said. The chapel, built with lumber culled from trees cut down when the state lake was built, has been resided. A cook's house has been moved to the campground and the kitchen has been expanded. Burkholder said he hopes the next improvement will be the addition of a tornado shelter.
But the camp is more than buildings and trees.
Luke Williams, 17, Topeka, rested on the ground as he read his Bible.
"What I like is all the good people and the good atmosphere here," Williams said. "And it gives you the freedom to be yourself."