Raising lambs requires patience, commitment
Ten year-old Alisha Ciszewski couldn't take her sheep before Leavenworth County Fair judges last year because she was in a hospital bed.
Put there by a brain tumor, she wasn't able to see the results of the months of hard work during her first year in 4-H.
Last year, her sister Jennifer, 9, showed one of Alisha's sheep on her behalf.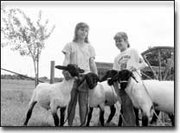 And although that sheep got a red ribbon, Alisha will get her own ribbons this year.
She underwent surgery last August, but the slight damage to her balance and speech have not slowed her down.
She and her sister both are raising two lambs for this year's competition.
Alisha's Opey and Olive as well as Jennifer's Barley and Buckwheat are the Ciszewski family's entries in this year's fair.
Raising a lamb is far from easy, they say.
It is a responsibility that takes patience and commitment.
Feeding, watering and grooming the lambs are daily chores that aren't always the most fun things to do.
The girls also have to walk the sheep daily to ensure that the animals are disciplined for the show.
A sheep's natural inclination is to mill around and graze, so getting it to start, stop and stand still for judging takes some training.
The girls' parents, Shelley and Daniel Ciszewski, make sure that the two girls stay on top of the daily care of their animals.
That's why 4-H is a family activity. It is an opportunity for parents to teach their children the importance of responsibility.
In the case of the Ciszewski sisters, that importance can be founds in the well-being of their lambs.
"My kids' first responsibility is to their fair projects," Shelley said.
"It's every day."
She said her family doesn't take vacations in the summer, because of her children's responsibilities to their sheep.
Shelley Ciszewski said that besides responsibility, 4-H teaches children other things important in life.
"4-H really pays off in learning to work together," she said. "I think the girls really enjoy the group involvement."
The Ciszewski family's 4-H club, Mayginnis Hustlers, is also making a banner for this year's fair to raise money for the group.
The group gets $75 if it wins, and it has won the last three years.