Tonganoxie banker not new to benefits of 4-H
4-H has been a part of Bill New's life for as long as he can remember.
"My parents were both 4-Her's and 4-H leaders," New said. "I was in 4-H years ago. I started showing at the fair when I was 10 years old."
He family has also been very active as well.
"My four children were in 4-H," he said. "My wife also spent 25 years as a 4-H leader."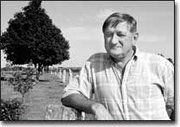 He said his life had been shaped through much of what he learned through 4-H.
"4-H has been an important part of my life," New said. "It helped me choose the career I'm in, it was the way I met my wife and it sent me around the world at a very early age."
New said he originally showed hogs when he joined 4-H, but that changed a couple of years later.
"Somewhere along the line in '54, I bought my first Angus heifer and I just continued to show beef," he said.
New continued to remain in 4-H even after high school.
He became involved in Collegiate 4-H at Kansas State University where he met his wife, Loris.
"I met her through a 4-H event at K-State," he said. "All the campus had gotten together for a social function. That's where we met."
He said he also participated in a six-month, 4-H sponsored international youth program.
"I went to Turkey. We went out to remote villages and lived with the people. It was people to people," he said.
New's experiences in Turkey affected how he lived his life.
"It shaped my life. I'm very tolerable of other people's ways of life and beliefs. I understand there are other ways of doing things," he said. "I have an understanding of why people are the way they are, because of their social conditions, their economic conditions."
He said his experiences kept him involved as a volunteer in 4-H.
New, who is the chairman of the First State Bank and Trust in Tonganoxie, served as beef project leader for several years for the Jarbalo Live Wire 4-H club. He also served on the fair board for a number of years and established the Leavenworth County livestock auction in the mid-'60s.
He currently serves as a trustee on the Kansas 4-H Foundation, which oversees Rock Springs 4-H camp and the management of funds contributed to the 4-H program.
Fair board president David Todd said even though New doesn't like to be the focus of attention, he has managed to accomplish a lot for 4-H.
"He's not a very vocal person, but he has a very strong presence," Todd said. "Bill, having served on the board and having been involved in the program, he understands how we operate and do things. He's aware of our unique situation."
Todd said New, as a banker, was able to help the fair board purchase 72 acres of property next to the fairgrounds.
"He was able to lend us a helping hand more than the average banker," he said.
By staying involved, New said he's been able to see kids change and grow through the program.
"I've been able to see what an important role 4-H has played in people where there weren't opportunities for them," he said.
He said through 4-H, children are able to learn and develop a number of valuable skills.
"They're able to develop goals, achieve those goals and become confident and successful," he said. "They also learn how to lose, how to be a graceful loser and benefit from it. They see they don't always have to be a winner or a grand champion.
"Even though people can develop those skills in the home or other organizations, very few do it as well as 4-H."
New said he looks forward to the Leavenworth County Fair every year.
"I'm excited about the fair," he said. "The excitement and the energy of the youth is just fantastic."
Todd said New often encourages the 4-H members during fair time.
"I've seen him lots of time talking to young people," he said. "If he sees a youngster coming out of the ring, it doesn't matter if he knows them or not, he'll congratulate them and tell them they've done a good job."
Todd said many people look to New for 4-H advice.
"He's experienced," he said. "He's been there, done that. A lot of people respect that."