New coach brings new ideas
At the end of volleyball season last year there was a head coaching position opening up at Tonganoxie High School.
Meanwhile In Kansas City, there was a young coach just finishing up her fourth year as a coach at Turner High School.
"I heard about the opening and contacted them," said Kelly Alexander, Tonganoxie's new head volleyball coach.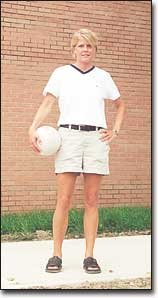 She was hired in the spring.
Alexander, a 28 year-old graduate of Kansas State University, spent her first two years at Turner as an assistant before moving up to head coach.
In her two years leading the struggling 5A school she helped turn a losing program into a team that placed in the top three in its league the last two seasons.
"It basically went from being a nothing program to the school getting excited about volleyball," she said.
And, while Tonganoxie has far from a nothing program, Alexander could bring new life to a traditionally successful program that had an off season last year.
"I know there has been a strong tradition here and I'd like to pick up on that," she said. "It's my goal to get the girls excited about the program, to get some pride there."
Alexander said that it all starts with communication, which triggers both commitment to the program and success.
But, she said, that level of success doesn't happen overnight.
"In my experience it takes some time to believe in something first," Alexander said.
One of the things she believes is crucial to the success of a program is getting players to spend time working out.
"Girls in the weight room is something new to a lot of high schools, but they have to lift to get stronger and bigger," Alexander said.
She said that much of this weight training must take place during the off-season. She believes that volleyball is a year-round sport.
But she doesn't just talk the talk. She walks the walk, and expects the same year-long dedication of herself that she does of her players.
She coaches volleyball from August to June, with July as her off-season. She coaches a Junior Olympic team during the summer. That team, by the way, got ninth place in the nation.
She said that, after meeting with her team, she felt that it was ready for a new beginning.
And that new beginning will come from her philosophy of communication as the key to success.
She said that she and her team have to spend time getting to know each other and what each expects both on and off the court. The record at the end of the season is secondary to that.
"Success is not winning," Alexander said. "It's setting goals and figuring out in the end if we've met those goals."
She said one of the goals she wants her team to focus on is pride. And pride has everything to do with appearance.
"They are representatives of the team, no matter where they go," Alexander said. "They are volleyball players and I expect them to be positive role models."
She said that volleyball is important because being involved in activity is one of the best ways to teach young people some of life's lessons.
Volleyball helps them build character, responsibility, communication and commitment.
"It's not just about playing volleyball, it's about being part of something," Alexander said. "I want them to look back and say they were thankful for that experience."
Alexander, a 1990 graduate of Immaculata High School in Leavenworth, will teach English at Tonganoxie Middle School this year.
Monday night the Tonganoxie School Board hired John Emery as the new Chieftain assistant volleyball coach.