Threshing time
McLouth celebration highlights history and technology
Things were chugging along as usual at this year's threshing bee.
Saturday morning, antique steam engines, belching puffs of black smoke, powered threshing machines, a sawmill and chugged across the grounds during McLouth's 43rd annual Steam Engine Show and Threshing Bee.
The fire-burning, water-boiling and whistling iron giants represented more than a weekend tourist attraction.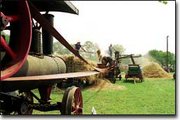 Howard Sargeant, Raytown, Mo., brought his grandson, Chance Gravatt, who lives in Lee's Summit, Mo., to the exhibition because he wanted him to know what farming used to be like.
"We grew up on a farm," Sargeant said. "We enjoy seeing the antique tractors and seeing what the past was all about."
As he spoke, Sargeant picked up a pair of what he said were "kickers" for dairy cows from the table at Emery Corbett's antique stand.
He showed the kickers, which he said clipped to the cows' legs during milking, to his grandson.
"These keep the cows from kicking you," Sargeant said. "Some of them were mean and didn't like to be milked. That's when we did the milking by hand."
When Chase Gravatt said he liked the threshing bee mostly because of all the old tractors, his grandfather looked in the direction of the display of antique cars and said, "I actually think what he likes is that '55 T-bird down there. I think he's more into new stuff than he is into old stuff."
Sitting down to partake of a just-cooked lunch under the roof of the outdoor dining area, Bill Leftwich, Sebring, Fla., said he returns to McLouth each year to attend the threshing bee. He also noted that it is usually close to the birthday of his father, Jack Leftwich, 83, who owns and operates the Threshing Bee Airport.
Bill Leftwich, a former airplane mechanic for Pan America, said he now builds experimental twin-engine planes, planes originally designed for National Geographic to fly in Africa. The aircraft allow for unencumbered views for photographers to shoot pictures from.
But while in Kansas, he leaves his technical life behind and says he's content to sit back and enjoy the good life.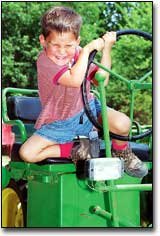 "This is my therapy," Leftwich said. "It's good therapy getting out of Florida. You come up here and it seems so natural there's an order to things."
Selling honey from her booth in the welcome shade of a nearby barn, Jackie Phifer, McLouth, awaited the arrival of her husband, Daniel, who would demonstrate how to take honey out of the honeycomb. Their daughter, Amber, the 2000 Kansas Honey Queen, also was planning to make an appearance.
Jackie Phifer said her husband keeps track of about 41 beehives, some of which are at Rees' Fruit Farm near Topeka, and all of which are in Jefferson County.
As she talked, passers-by checked out the jars of amber-colored honey she had brought.
Sales hadn't been anything to write home about yet, but Phifer said that's not unusual.
"People don't like to carry jars of honey around with them all day, so they usually wait to buy it right before they leave," she said.
On a good year, the bees might produce as much as 4,000 pounds of honey, depending on the weather. Contrary to what most people think, beekeeping is a year-round business that culminates with harvest in late summer or early autumn. And the first weekend of every August, of course, beekeeping includes setting up a booth at the threshing bee.
Under the shade of a three-sided shed, Jim Bevan heated iron in the blacksmith shop. As visitors watched, Bevan explained the procedure of bending iron the old-fashioned way. He was making a hanger to fit on a tripod that would hold a kettle over a firepit.
Roger Daum, a member of American Legion Post 225, Ozawkie, was one of dozens of volunteers who helped run the show. He was pleased with the crowd.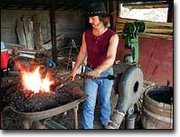 "The attendance seems to be up from last year," Daum said. "Of course the weather's been cooler and we have a lot more exhibits than last year."
Evenings are the busiest times at the festival, Daum said. "That's when things start really picking up, there's tractor pulls, pony pulls and music."
As he spoke, the acoustical background provided the occasional strum of a guitar, the whistle of steam engines, the scream of a sawmill. The summer breeze carried the whiff of coal smoke and the flavor of barbecue ready to serve. An airplane that had just taken off from the nearby Threshing Bee airport circled languidly in the sky. As usual, the threshing bee continued in its unhurried steps.
Perhaps Bill Leftwich summed up his impression of the threshing bee as well as anyone:
"I love the people out here," he said. "And everything feels so ordered. I'm so unrushed."