Wizards camp draws big crowd
Nearly 90 children learn about soccer, meet professionals
Nearly 90 children between the ages of 5 and 18 gathered at the Leavenworth County Fairgrounds last week for the fourth annual Kansas City Wizards soccer camp.
The camp, brought to the fairgrounds by the combined effort of the Tonganoxie Recreation Commission, the Kansas City Kansas Community College soccer team and the Wizards, was a two-day program designed to help area children with soccer skills and to give them the chance to meet some of their heroes.
Wizards players Mo Johnston, Brian Johnson, Chris Kline and Francisco Gomez teamed up with two KCKCC players to run the camp on Thursday and Friday.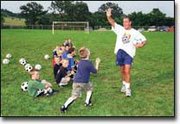 Johnston, who has been involved with the camp during its four years, was only able to attend one of the two days, opting instead to spend time with his new-born twin boys, T.J. and Tyler.
Campers worked on kicking drills for both the right and left foot, agility and game strategy.
Ken Mark, Tonganoxie Recreation Commission chairman, said that KCKCC coach Gerald McGonagle had been instrumental in getting the camp together.
His players and coaching staff, not to mention his friendship with Johnston, have had much to do with the continuing success of the yearly camp.
This year McGonagle is bringing even more soccer action to the area.
On Sept. 9 his KCKCC team is scheduled to play Neosha County Community College in Tonganoxie at the yet-to-be completed soccer field near the high school.
The Tonganoxie High School team also will play its home game on the field.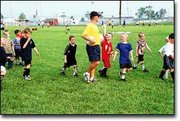 Respected British soccer coach Anthony Hoppwood made an appearance on the second day of the camp and imparted some of his soccer wisdom to the youth.
The 90 participants in this year's camp is a 28 percent increase from last summer's 65.
"This is the most we've had in the four years," said Mark Zerrer, Tonganoxie Recreation Commission director. "It seems to be steadily increasing each year."
Ken Mark said that working with local media, putting up fliers and an all-around concerted effort to get the word out are partially responsible for the increased attendance at this year's camp.
Another reason for the high number of participants at this year's camp could be that the Wizards are one of the best teams in the league this year.
Whatever the reason, the camp drew children from all over Leavenworth County.
Mark said that each year the Wizard players bring T-shirts and pennants to the camp that they give away during a drawing on the last day.
The players also handed out soccer trading cards to those children who didn't win anything in the drawing.