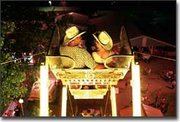 Photos by Lisa Stevens John
The Leavenworth County Fair brought activities and events for everyone.
Bob and Nancy Norris donned western hats Wednesday night and went to the fair. Here they take a spin on the ferris wheel.
Fire trucks from across the county led the parade.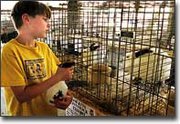 Tyler Hutchins makes the rounds with a spray bottle of water to keep the rabbits cool.