New
KBI

lab sets sights on criminals
Last week, the Kansas Bureau of Investigation took a giant step toward fighting crime in the Kansas City, Kan., area.
"This is a great day for Kansas City, Kansas, and it's a grave day for the violent criminal," said Kansas Rep. Tom Burroughs.
Burroughs spoke Friday afternoon at a dedication ceremony at Kansas City Kansas Community College where the new lab is located.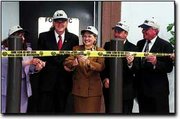 Terry Knowles, deputy director of KBI, said the lab will serve three purposes: DNA examination, firearms examination and evidence receiving.
The lab funded by the Unified Govern-ment of Wyan-dotte County, the state of Kansas and through grants from the U.S. Department of Justice marks a unique partnership between law enforcement and education, Knowles said.
Larry Welch, Kansas Bureau of Investigation director, noted that about three years ago KCKCC offered to provide 3,000 square feet of space in the math and science building to be used as a lab by the KBI. The terms: no rent for 15 years.
The area where the lab is originally was constructed to serve as a chemistry lab and has concrete ceilings. Most recently, the space had been used as a print shop.
Tom Burke, president of KCKCC, recalled Welch's response after the college's board of trustees approved the deal and he made the 15-year rent-free offer to Welch.
"He said, 'It sounds good, but it's not very good business sense.'"
But it provides another educational opportunity for the college.
"Now we can use the space for the purpose it was intended a science lab," Burke said.
The college now has a forensic science program and 20 students are enrolled, Burke said.
"We're working with the University of Kansas to see if we can develop a two-and-two program where the students go here two years, and to KU two years."
Kansas has long had difficulty in recruiting forensic scientists, and this should help. Burke said.
"If we can't recruit them, we'll just grow our own," he said.
Attorney General Carla Stovall said northeast Kansas has a high proportion of violent crime.
"The bottom line for law enforcement is not to ask why this is so, but to acknowledge that it does exist," Stovall said. "I would guess that in northeast Kansas the demand for laboratories has never been higher and I hope it never will be higher."
Nick Tomasic, district attorney for Wyandotte County, agreed.
"We've got the highest crime rate in the state, we have the highest juvenile crime rate in the state and we have a third of the homicides in Kansas," Tomasic said.
With KBI labs in Topeka and Great Bend facing a constant backlog, Stovall said something had to be done.
The new lab, which employs two DNA scientists and two firearms examiners, will alleviate some of the pressure on other KBI labs. Stovall said, as KBI labs receive 50 new cases each day, this is important.
Or, as Burroughs said, "Law enforcement here has had to wait weeks and even months for the results of testing. No more we have broken the logjam."