Smiley's just the course for new golfers, drivers
Editor's note: This is the 10th part of a summerlong series highlighting some of the better golf courses in the Kansas City metro area. This week, we cruise east on K-10 to Smiley's Executive Golf Club in Lenexa.
Eudora- As a golf community we're triply blessed.
We have a number of top-of-the-line premium public courses in the area that makes a round of golf something special. Courses like Lenexa's Falcon Ridge, Leawood's Iron Horse and Jim Colbert's newly opened links in Spring Hill would rank with any public courses in the country.
These courses are worth playing no doubt.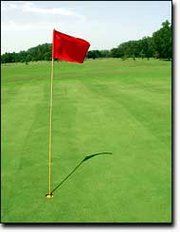 There is also a second tier of golf courses. Nice courses that don't cost a whole lot to play.
Overland Park Golf Club, Tomahawk Hills, Sunflower Hills and Heritage Park would fall into this second category.
But what might make the metro area truly a golf haven are the places that allow players of all ages to learn the game on a course that won't intimidate them to the point where they become so discouraged, they never again want to play.
We have three or four courses right along the K-10 corridor that fall into this category. DeSoto's Oak Country Golf Course, last week's featured course, Twin Oaks, River View and Smiley's Executive Golf Club would all fall into this category.
We could have easily chosen any of these courses to feature this week, but time constraints forced us to choose just one beginner course.
Because Smiley's, located at the northeast corner of the K-10/K-7 junction, boasts one of the top-rated driving ranges in the United States, we chose it as the perfect place for a beginner to learn the game.
Smiley's offers summer golf classes.
Players learn on a driving range that features several target holes. It's a range for players of all levels. Newbies can learn to hit the ball there and a scratch player can work on honing his skills from club distance to minor swing adjustments. The driving range has been deemed one of the top 50 in America four times in the last six years.
When you throw in a par-60 course, that's really icing on the proverbial cake.
Smiley's will never be confused with Falcon Ridge, which is a mile to the east, but it has its purpose. Its job is to get new players ready to venture out to other golf courses by allowing them to learn the game at a level that makes them look forward to their next outing.
There is seldom a shot that is so heinous at Smiley's that a second shot is made impossible. The exception to that would be on the fifth, sixth, ninth and 18th holes, where water comes into play and often prevails.
The fifth hole is a 325-yard dogleg to the right. Hit your drive too long and it will find its way to the pond, which winds down the left side of the fairway all the way to the green.
The sixth hole is the No. 1 handicap hole on the course a 160-yard par three that requires a player to hit over the pond, which flanks the left side of the fairway and green. Hit it to the left, the ball gets wet. Hit to the right and a player has a tricky chip over a bunker onto a green that slopes to water. The ninth and 18th holes are straight par-four holes that require a player to clear a large pond. From there, it's a short iron to the green.
If Smiley's has a downfall, it's the putting surfaces, which are soft. This is not the place for a beginner to work on putting, but for the $12 green fee, it's a good place to work on one's short game.