It was just another day for Charlie Trayer, manager of Cottonwood Ranch.
But for the 200 or so spectators, Trayer's demonstration would provide enlightenment most had never seen.
As the wind brushed through the trees, shifting a cool evening breeze across Tailgate Ranch, south of Tonganoxie, Trayer demonstrated how to break a colt.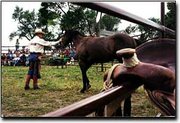 Within 20 minutes after Trayer's tall red boots first kicked up dust in the corral, he had the colt geared up in a thick blanket and saddle.
Trayer turned him loose.
"We'll just let him do what he thinks he needs to do," Trayer said.
Within moments, the colt began bucking, galloping about the corral, his horseshoes clanking the metal rails of the fence as he tried to ditch the saddle.
The audience watched in silence as the colt simmered down and came to a rest near Trayer.
The next step, of course after more getting to know each other, was to ride the horse.
Trayer made moves at putting his weight in the stirrups, getting the horse used to the feel of the extra weight.
Then, without using any type of harness, Trayer gingerly climbed into the saddle. For about a half-minute the cowboy in the white10-gallon hat and the colt in saddle were motionless.
"He'll have to move his feet sometime," Trayer said, whispering into a wireless microphone.
"We'll just let him do what he thinks he needs to do."
And do it he did.
Within moments, the horse began bucking, galloping about the corral, his horseshoes clanking against the metal fence as he tried to ditch the rider.
When the dust settled, Trayer's white hat lay dusty on the ground, but Trayer remained in the saddle.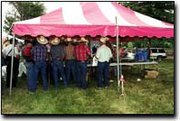 "That was a pretty good ride," he said.
The adventure continued.
"As long as he doesn't fall down, I can ride as fast as he can run," Trayer said.
As the horse carried him around the corral, Trayer looked at his hat in the ring, grinned, and said, "He's gonna mess around and step on that hat yet."
Although Trayer seemed to be taking the horse breaking all in stride, he spoke breathlessly into the microphone. Obviously, even for Trayer, who has been doing this for 35 years, the work requires intense concentration and he has learned that every move he makes around the anxious horse must be the right move.
Trayer's demonstration captivated the crowd.
Herbe Steuwe, a cattle rancher from Paxico, noted the response.
"It was just like in church," he said. "It was so quiet you could've heard a pin drop."
This demonstration was a part of the Ranch Management Field Day held Thursday at Tailgate Ranch and organized by the Kansas Livestock Association and Kansas State University.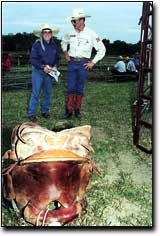 Tailgate Ranch is a 2,000-acre commercial cow-calf operation owned by Paul McKie since 1962. Parts of the ranch were first established in the 1800s.
Gary Beers, a Eudora rancher, was one of the many who attended. He said he appreciated a talk that gave different ideas on how to manage grasses for grazing. Beers spoke of a sign of the times when he said it's becoming even more and more important for a cattle rancher in northeast Kansas to know how to best manage grasses.
"We live over in Johnson County," Beers said. "It's getting so urbanized and we have a lot of farming operations and when pieces of land sell to developers, we lose farmland."
This is a predicament for which Beers doesn't see a cure.
"They're marching out here as fast as they can," he said.
Mike Beam, Kansas Livestock Association coordinator for the event, said Tailgate was selected for this year's seminar because of McKie's active involvement in KLA.
"Each year we look for locations in different parts of the state," Beam said. "This year we chose Tailgate."