Century-old house travels home
It was Wagons Ho! for a 122-year-old two-story white frame house Friday afternoon as it rolled down County Road 9.
As electric company workers moved three sets of power lines, the future home of Jeff Denholm rolled a mile east toward a new foundation about four miles northeast of Tonganoxie.
For more than a century, Denholms had lived in or owned the home, which was built in 1878 by John Gress.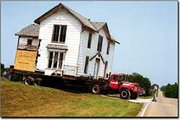 Walter Lee Denholm recalled that his father, Walter G. Denholm was born in the house on July 15, 1899, and died in the house on Feb. 26, 1973. Walter Lee Denholms grandfather also died in the house.
As the house of history rolled toward its new home, traveling about 5 mph, Tracy Fulmer, Lees Summit, Mo., parked his pickup nearby and watched the action.
Fulmer works for Dennis Franklin, of Franklin Construction, Lees Summit, the company that moved the house.
As far as moving the house, it wasnt much different from many of the houses they move, Fulmer said.
The only really hard part about it is putting in the first main beam under the house, Fulmer said. After that, its a piece of cake.
Nila Denholm, who watched the house move with her husband, Walter Lee Denholm, kept track of the entire moving process.
She said workers first lubricated the I-beams by rubbing bars of Ivory soap across them.
Then they got hold of that with the dozer, got it centered, and in about two minutes, they had the house off its foundation, she Lila Denholm said. I couldnt believe it.
Fulmer said the house was raised on four jacks at once.
If the house wasnt level, it will go to level, he said. Those beams will level it all out.
The house creaked when jacked up, he said.
Just like any old house X but they really dont make that much noise.
Once the house gets on the road, the driver of the Mack truck has to be careful to keep the tires on the road.
Sometimes you might have to take it off the road a little bit, Fulmer said. But most of the time youve got to keep the tires right on the road. That way you dont take any chances on getting stuck.
Because of the dimensions of the house, Fulmer said extra precautions were taken with the load, estimated to weigh 80,000 pounds including house, truck and trailer.
This house is a bit taller than it is wide, Fulmer said. Coming down that hill, it could tip forward and crash, but were pretty sure weve got it loaded so it wont.
In his field, of course, house moving is big business.
I think its cheaper sometimes to move a house than to build a new one, Fulmer said. Cost of the move was $10,000, and there were expenses incurred in obtaining a building permit, moving permit and bond to cover possible damage to the road, said Lila Denholm.
Jeff had talked about doing this for about 10 years, she said. We had everything set to move two years ago, but he was injured in an accident, so we put it off.
The house, now having made a move of a century, rests on a new foundation at the base of a tree-covered hill and will be restored and added onto, she said.