Soccer team ready for Free State
JV

comes up big against varsity in scrimmage
The Tonganoxie High School soccer team begins its season Thursday, one week after the team put on an impressive performance during its annual red and white scrimmage.
Going into the teams opener at 7 p.m. in Lawrence against Free State High School, Chieftain coach Harold Pittman said that the pre-season scrimmage had been good preparation for his team, although not as good as hed hoped.
The scrimmage was varsity against junior varsity.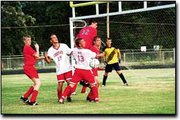 The varsity and the JV both did very well, especially the JV, Pittman said. As far as the varsity, we still have some issues on team play.
And getting his talented players to play more as a team has been one of Pittmans goals since practice started. He said the teams have been improving, however.
Both teams fielded strong defenses for the scrimmage. As a result, ball movement from defense to offense struggled, keeping offenses on both sides from getting the ball and attacking the goal.
When those rare opportunities to shoot on goal did arise, players stepped up X especially the junior varsity.
The JV didnt really have a whole lot of opportunities, Pittman said. But when they did, they capitalized.
One junior varsity player who had a good game during last Thursdays scrimmage was Jacob Walker.
Coach Pittman said he could see some time on the varsity squad this season.
He added that there were several other younger players he was looking at to fill some holes later in the season.
On the varsity side, Pittman said he was very impressed with the encouragement the older players gave the junior varsity.
Looking ahead to tomorrows game in Lawrence, Pittman said that Lawrence had a history of producing good soccer players and that he was planning to approach the game as a tough one.
He also has a game plan.
Since his team has displayed such a tenacious defense, he said he would put the teams initial focus on that.
First, we have to play tough defense, he said. We have to frustrate their offense.
He said that frustrating and wearing out the Free State defense could give his team momentum to go the other way.
After that, we need to bring in transition attacks, Pittman said. Frustrate and counter-attack.
As his team continues to come together, Pittman said he is looking forward to a good year.
The junior varsity plays its first game at 5 p.m., immediately before the varsity game.