Soybean crop suffers in heat
The extreme dry, hot weather in northeastern Kansas is taking a toll on the soybean crop.
We needed rain a long time ago, said Leavenworth County farmer Mike McGraw. We need rain and the heat to back off. The corn has already done its deal. The corn is not too bad a crop because we had rain in July.
But soybeans are another matter.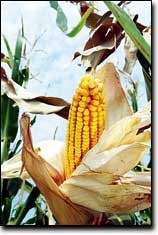 Theyre forming pods and making beans. Theyre going to start aborting those, said McGraw, who farms throughout the county. With the kind of heat weve had, its already done a lot of damage to them.
McGraw has about 1,000 acres planted in corn, and he planted more than 1,000 acres in beans.
Its likely, he said, hell start harvesting corn this week. Because of high propane fuel prices, he planned to let the corn dry in the field, rather than run a grain dryer to remove moisture. The corn yield should be above average, he said.
And he considers himself lucky when he drives south of Leavenworth County, where rains have been even more scarce. He said hes seen fields where the corn looks pitiful.
The price for corn last Friday, he said, was at $1.47 a bushel, and he was paid $4.54 for soybeans last week.
The soybean harvest is awhile off. Normally, beans are cut between mid-September and late September.
But McGraw said: They are really pushing on fast. I think this heats going to cut the yields pretty bad. Right now, the biggest problem we have is 100-degree days.
Sy Nyhart, Leavenworth County extension agent, agreed that corn is in better shape than the countys bean crop.
Some of the ears may not be all together filled because of being hot at the time of pollination, he said. The beans are still trying to fill and theyre needing some rain. It wouldnt hurt the corn to have more moisture at this time. The beans, and even milo, are still filling, and they need moisture.