Stamp it!
Enthusiasts say they|ll stamp nearly anything
On a recent Saturday, about 40 women from the Kansas City and Basehor area made their way to Tonganoxie to attend stamp camp.
No, its not a daycamp for postage stamp collectors. Its a meeting where women get together to learn how to apply an array of inked stamp patterns to clothing, stationery and household objects.
You have your Avon ladies and your Tupperware ladies. Well, were the stamp ladies, said Shelly Hunter, who along with her sister, Terri Brest, organized the stamp camp.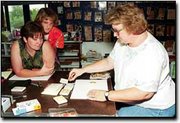 She was hooked
A devout stamper for 17 years, Hunter said she started stamping in college.
When the stamping craze began to take off about five years ago, Hunter was ready.
I went to a stamp party, and I was hooked, she said.
After that, Hunter held a few of the workshops.
I basically just did it to get the kit and to get the stamps at a cheaper price, Hunter said. And now, here I am.
Today, 29 demonstrators work under Hunter, spreading their knowledge of stamping from Kansas as far as Michigan and Wisconsin.
Part of the fun of stamping, and what draws women, is that it is the social aspect, Hunter said. It provides a chance for friends, new and old, to visit as they work together, sharing stamps and ink trying new designs.
Jackie OBryan, Basehor, agreed.
My best friend is a demonstrator, OBryan said. We get together once in a while at each others houses and stamp.
The two design birthday cards and Christmas cards, among other things.
Also, the crafts simplicity is a draw.
Most of what we do takes less than three minutes to put together, Hunter said.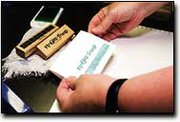 Good for beginners
Its a good hobby for beginners, too.
First-time stamper Lea Ann Babson, Overland Park, took her time in preparing to stamp designs on paper. She had purchased her first supply of stamps the day before.
As the women worked, Hunter, Brest and other demonstrators made the rounds, bringing supplies, answering questions and visiting as they went.
Hunter, who teaches at Genesis Christian Academy, said she took a cut in pay when she switched from teaching in a public school to a private school. But the income she makes in stamping has made up the difference.
Its been a big year for stampers, said Hunter, who works with her sister, Terri Brest.
Last April we had 30 workshops, Hunter said. But she admitted that might have been overdoing it.
I teach full time and I have two little children, she said.
So now, Hunter limits herself to just four or five stamping parties a month.
But Brest continues to go at the business a little bit harder.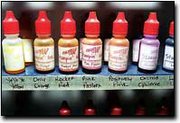 We had different goals in mind, Brest said. My sister wanted to basically get her stamps and have fun with the workshops. When I got into it, I decided I could really make a business out of this.
And theres still plenty of room to drum up new business.
Theres a lot of opportunity out there, Brest said.
Its an amazing thing, it really is X as old as this company is, there are still people who have never heard of it.
And when they do hear about it, the business hits.
People seem to come out of the woodwork when you tell them youre a stamper.
The business side of it all
Demonstrators can make from 20 to 30 percent commission on sales, Brest said. The average workshop, which can include as few as two participants or sometimes up to several dozen, can generate sales of from $350 to $400.
On top of the commission, every demonstrator receives an extra 2 percent of sales at workshops held by demonstrators who are in their down line. For instance, Brest, who signed up under her sister, has 11 demonstrators signed up under her who are part of the 29 under Hunter.
So, Brest and Hunter would each net about 2 percent of those demonstrators sales.
This starts at 2 percent and, depending on how much times and involvement you want to put into teaching your downline and working with them, it just goes up from there, Brest said.
Part of the fun is watching the new demonstrators progress in the business.
The ladies we recruit usually are hostesses who have had workshops for us, Brest said. We sign them up as demonstrators only because they want to play stamps.
Growth continues
Before long, the demonstrators realize that they really can make money at stamping parties and when they take it more seriously, their business starts to grow. The cost of becoming a demonstrator runs $250 or less, depending on how many stamps are already owned.
For those who want to be demonstrators on a smaller scale, the only requirement is that they sell a minimum of $150 worth of stamps and other stamping products a month.
Usually once your friends know that youre stamping, you dont have any problem at all filling the $150 a month, Brest said.
Even after four years in the business, Brest says shes amazed not only at the potential for making money, but also at the versatility of the stamping products and designs available.
We used to say, if it doesnt move, you can stamp it, Brest said. And then we heard of a teacher who used washable ink and stamped her students cheeks X so now we say you can stamp anything.