Tonganoxie boy leaves baseball to chase his dream on a bike
Eleven-year-old Josh McCutchen had been playing summer baseball his entire life. From T-ball on up, the youth put on a uniform and stepped up to the plate every year for Tonganoxie teams.
But that changed this year. He quit baseball to do something he loved even more than the great American pastime Xto race bikes.
One day dad asked me if Id rather play baseball or ride bikes, Josh said. I said bikes, and we started looking at tracks.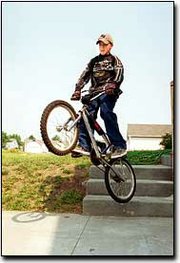 So in March, he began racing at the novice level. Competing in races in Topeka, Blue Springs and Raytown, Josh was quick to learn the ropes of the new sport.
Two months and eight races after he began, Josh had taken first place six times, which qualified him to race at the intermediate level.
That is where the sport gets much more difficult.
The competition is tougher. In order to move up to the expert class, a rider must win 20 races.
And to win just one race takes hard work and practice.
Josh has been racing at the intermediate level since May, and is still yet to win a race, though he has netted a third and a second.
But before he wins an intermediate race, he said he needs to overcome some bad habits that didnt matter at the novice level.
I like to do tricks over the jumps, but it slows me down because I have to go higher in the air, he said. Its better to stay lower to the ground.
He said that he got that advice from his father, a former BMX rider.
My husband raced when he was younger, said Tammie McCutchen, Joshs mother. Hearing Dad tell stories probably got him interested.
McCutchen said she didnt know any other area children who were involved in bike racing, but she thinks its a great activity that more parents should consider for their children.
I know a lot of kids in town would benefit from something like this, she said. Its a one-on-one sport X hes got to pedal or he doesnt pedal.
The cost to race is $35 a year. That cost allows a rider to compete on any American Bicycle Association-sanctioned course. The three nearest courses are in Topeka, Blue Springs and Raytown.