Chieftains fall short to Raiders
Snow fell and Tonganoxie High School basketball teams played their first games of the season Friday -- both sure signs that winter is finally here.
Facing Immaculata, a team that beat the Chieftains by more than 30 points in both of the teams` meetings last season, the boys team knew it had its work cut out for it in its season opener.
Coach Mike Webb said before the game that winning wasn`t the most important aspect, so long as his team was prepared both mentally and physically.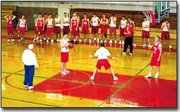 And though the team ended up losing the game, 43-36, Webb said his team met that goal.
"I think we were definitely prepared physically," Webb said. "But as far as id we meet the goal of being prepared mentally`? I think so -- we just didn`t always execute."
But they never gave up.
Down nine at one point in the fourth quarter, the Chieftains rallied and pulled the game to a 36-36 tie with 1:32 to go.
"I`m proud of the kids," Webb said. "They never quit."
Webb said his team played a little tentatively and didn`t always attack the basket when it needed to.
He said his team was also hampered by too many turnovers. The Chieftains had 18 in the game.
Junior Bryan Gurss led the Chieftains in scoring with 12 points. Senior Scott Breuer chipped in with nine for Tonganoxie.
Webb said the team got a big boost from the bench on Friday. He said players who checked into the game constantly brought aggression with them.
"I thought Mark Gepner gave us a huge spark off the bench," Webb said. "As did Matt Needham."
Webb said Tonganoxie strength in the game was its defense. The Chieftains forced the Raiders to turn the ball over quite a bit in the game with its tough full-court press.
"Defense-wise, we were very strong," Webb said. "On offense we need to do a better job attacking the basket."
The Chieftains next game is 7:30 p.m. Friday vs. DeSoto.
The junior varsity team were able to pull together for a 58-45 win earlier in the evening.
Sophomore Brad Reischman led in scoring with 17 of the 58 points, which he scored in the first half. Freshman Shane Howard added 11 points for the Chieftains. Junior Brett Cruickshank and sophomore Jon Gripka had 10 points apiece.
The freshmen team also dominated the court defeating the Raiders 42-27.
Derek Sparks and Matt Madeira combined for 15 points apiece to lead the freshmen.