Wrapped up in ancient Egypt
Ask just about any sixth-grader at Tonganoxie Elementary School about ancient Egypt, and they`ll be more than happy to talk with you.
They know about life along the Nile River, about pharaohs and queens. And so they were enthusiastic when their teachers asked them to make life-size mummies.
"They`ve worked very, very hard, not just on the mummies," said Susan Lenon, one of four sixth-grade teachers.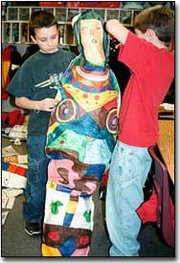 The youngsters traced themselves on large pieces of white paper. Then they cut out a front and back, and pulled out colored markers, crayons and colored pencils.
"Some of them did hieroglyphics and some used the symbols the Egyptians used," Lenon said.
Students in the other three sixth-grade classes -- taught by Karen Sivits, Janet Burnett and Lauri Bottenfield -- worked on the projects, with extra help from art teacher Shirley Welch.
For many of the children, the opportunity to draw and use their imaginations made the mummy project particularly enjoyable.
"It kind of wastes a little bit of class time," said Chris Smith, 11. "But it gives me time to draw, and I love to draw. I`ve been kind of thinking when I get older about being an artist."
Chris` mummy featured a giant eel and a bird. He also adorned it with a headdress.
"I think it makes the mummy look more mummy-like with the headdress on it," he said.
Another 11-year-old, Chris Sheppard, said he was fascinated with how the Egyptians enveloped their dead in white linen and rubbed oil on them -- after removing all internal organs except their hearts. Chris explained that in the afterlife, the hearts` weights were compared with the weight of a feather. Those with heavy hearts had been sinners, he said, while those with light hearts hadn`t been.
"It was interesting to find out how they wrapped the mummies and what the steps were," he said.
Like Chris Smith, Chris Sheppard loved the chance to exercise his artistic abilities.
"I have sketch pads at home, and I take art classes," he said. "I really liked it. I liked the subject."
Tyler Thomas used colored pencils on his mummy.
"It makes it look more real life," the 11-year-old said.
For Corissa Hall, also 11, colored markers were the choice.
"Mine has black hair," she said. "I didn`t really want a headdress on it, so I chose black hair."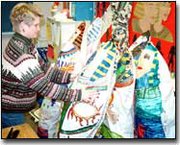 Laura Shuster, 11, agreed.
"That was the way they looked," she said. "The average person just had hair. They didn`t have a headdress."
Corissa`s mummy features hands crossed over her chest.
"I didn`t trace my hands," she said, proudly.
It was fun, she said, to study about another country.
"I really, really like social studies," Corissa said. "I`ve always wanted to learn about Egypt."
The students completed the mummies last week.
"I`ll probably scare my brother with it -- no, I`m joking," Corissa said. "I`ll set it out by the door to my room in the dining room."
Laura, on the other hand, had other ideas.
"I might put it up in my room and save it -- or I might use it for target practice," she said. "Just, well, throw a ball at it or something. I like it. But I just might do it for the heck of it."