Boys team blows out Wildcats
After losing its first two games of the season by a combined total of 13 points, Tonganoxie High School's boys basketball team finally got things moving in the right direction Friday night, defeating the DeSoto Wildcats 62-28.
The Chieftains were led by senior Matt Needham, who played with near-manic intensity every time he was in the game especially in the opening quarter when he scored eight of his 16 points.
Coach Mike Webb said Needham's play sparked the team's aggressiveness.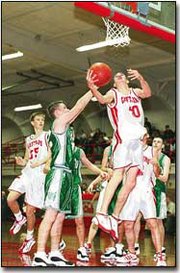 "He stepped up to the challenge and really played hard, and everybody else picked up on that," Webb said. "I told him when he came off the court how it was the best game he had ever played."
He scored the Chieftain's first points in the opening seconds as the two teams traded baskets early in the game. By the end of the first quarter, Tonganoxie had pulled to a 17-11 lead.
In the second quarter, the Chieftains continued to play strong offense, but it was the increase in defensive intensity that was the story of that quarter. Tonganoxie allowed the Wildcats to score only three points in that quarter, going into halftime with a 33-14 lead.
The third quarter was fairly even, with the Chieftains outscoring DeSoto 14-12. The Wildcats would have scored only nine points, but Desoto hit a desperation half-court shot at the buzzer.
Maybe that fired the Chieftains up, because they once again clamped down on DeSoto, allowing the team to score only two points in the fourth quarter on their way to the 34-point victory.
Webb said that seniors Needham and Scott Breuer had been key in getting the whole team involved in the action.
"He (Breuer) and Needham made some really nice passes, he said. "I was really pleased with their unselfish play."
Breuer had five assists.
The Chieftains had the advantage over DeSoto in nearly every area of the game.
The Chieftains grabbed 22 rebounds in the game, including seven offensive rebounds.
The team had 17 steals in the game.
Bryan Gurss led the team in steals with six.
"Gurss plays so well in the press," Webb said. "It seemed like he was always at two different places at once."
Webb said that Friday's game was an indication of how good the team could be, though he said he figured his team wouldn't be hitting on all cylinders until after Christmas.
Tonganoxie's next game is 7:30 p.m. Friday at Bonner Springs.