Free throws, defense win nail-biter
Lady Chieftains squander big lead in 49-46 victory
Tonganoxie's High School girls basketball team pushed its record to 2-1 Friday night, beating the DeSoto Wildcats behind its best team free-throw shooting of the season.
Coach Leslie Foster said at the beginning of the season that one of her goals for the team was to get it to the point where it consistently shot 75 percent or better from the line.
While the team didn't do that in its first three games, Friday's 61 percent performance is a marked improvement from the first two games, which saw the Chieftains shoot in the 40-percent range.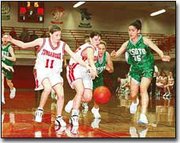 And it's a good thing their free throws were falling because, after controlling the game most of the way, the Chieftains found themselves in for a fight by the final minutes of the game.
"It was really a lot closer than I wanted it to be," Foster said. "We were up 12 going into the third."
But in the final two minutes of the game, DeSoto twice cut Tonganoxie's lead to only two points.
The score was 44-42 with two minutes left, but junior Aimee Eisman responded by hitting the front end of a pair of free throws.
After rebounding the ball on DeSoto's subsequent possession, Eisman was again fouled. This time she hit both shots.
But after drawing a blocking foul against junior Andrea Korb and making both free throws, DeSoto was back in the picture. Tonganoxie's lead was 47-44.
After DeSoto scored on a layup and Tonganoxie hit another free throw, the Chieftain lead was again shrunk to two, 48-46.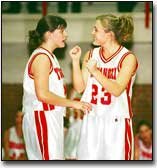 But the Chieftains' defense held and another free throw gave the girls a 49-46 victory.
Foster said that every team member played hard and contributed to the win.
"Defensively, the bench did a really good job," she said. "I was very surprised at the amount of aggression they brought on to the floor."
The Chieftain's hit seven out of 10 free throws in the fourth period.
Andrea Korb led the team in scoring with 15. She was followed by Keri Walker, who once again found the touch from the outside, scoring 10 points.
Senior Kristin Korb added eight for the team.
Foster said the Chieftains played great team defense in the win.
The junior varsity team also pushed its record to 2-1 Friday night, beating DeSoto, 36-18.