Anyone who has "cared enough to send the very best" may have mailed a greeting card that featured Riley Vogel, a 12-year-old Tonganoxie girl.
When Kelly Vogel, Riley's mother, worked for Hallmark and needed a young face to photograph, she fixed her eye on her daughter, a raven-haired, brown-eyed girl.
In an upstairs bedroom at the home of Riley's grandparents, Gene and Darcey Vogel, framed greeting cards double as family pictures. One is of a younger Riley decked in a calico dress, and standing on a hill surrounded by tall purple flowers. Another shows Riley with a young boy who is reaching up to kiss her on the cheek. The boy in the card is actually her cousin, Sean Shaffer, from Kansas City, Mo.
Another photo shows Riley and Sean's sister, Marlee Shaffer, building castles in the sand. Most of the pictures were taken in the mid-1990s by Kelly Vogel, Riley's mother.
Rachel Bolton, a spokesperson for Hallmark Cards, said that when a card is issued, typically it has already been test-marketed.
"So any stock design that's out there would have sold thousands thousands," Bolton said.
She added that Hallmark cards are sold in 47,000 locations, including 7,500 Hallmark stores. Although Hallmark sell cards worldwide, the cards that showed Riley were most likely only sold in the United States, Bolton said.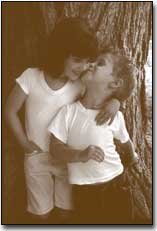 Because Hallmark issues more than 30,000 redesigns and new products each year, most cards typically are marketed for one year.
Today, Riley, who has lived in Tonganoxie for two years and who is a sixth-grade student at Tonganoxie Elementary School, said she usually doesn't tell anyone that she used to model for Hallmark.
She's too busy doing other things.
For instance, Riley likes to participate in 4-H projects, work her border collie, Briget, feed her bucket calf and enter honey that she's helped harvest in the state fair (winning a purple ribbon, of course).
She likes knitting and just completed making a washcloth.
"Right now I'm knitting a bell, a pillow and I'm going to start on a winter hat," Riley said.
Her favorite subject in school is math and she likes to play volleyball and basketball. In her spare time, she likes to go to movies with her mother and hang out with her friends.
And when she eats out in a restaurant, she's a steak (well-done, if you please) and baked potatoes kind of girl. And for dessert? Well, there's nothing much better than chocolate chip cookie dough ice cream.
After school, she likes to spend time with her grandmother, Darcey, and last year in school, Riley wrote a story about her grandfather, Gene Vogel, that Riley's mother printed and framed as a present for him.

She hopes to soon have a horse to ride.
All in all, Riley Vogel is a typical young teen-age girl. Except that, once upon a time in the not-too-distant-past, across the country and beyond, people opened their mailboxes and sometimes a torn envelope would reveal a picture of a lovely little girl none other than Riley Vogel.