It's time to get Star Struck.
Tonganoxie's Star Struck Dance Center, 504 1/2 E. Fourth, is geared up for a fun-filled year of tap, ballet, pointe, tumbling, cheerleading, piano playing and voice lessons. It offers everything that girls and boys dream about.
But none of it would be possible without owner Cynthia Starcher, 22.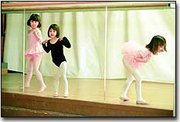 Since Starcher was a little girl, dance has been an integral part of her life. She and five others teach various classes Monday through Thursday evenings and on Saturday mornings. The other teachers are Chara Mock, ballet, Barbara Horseman, voice and piano, Brandy Seitter, tumbling, Laura Thompson, tumbling, and Brandy Scallorn, ballet, tap and jazz. Starcher teaches a little of everything.
When Starcher was 16, her parents, Linda and John Carver, bought for her the former Miss Susan's School of Dance.
Starcher took classes at the studio from Susan Atwood, who was the owner at the time, and eventually helped teach classes with her.
However, when Starcher went to class one day, she found a note on the door saying the studio had closed.
When the studio closed, Staci Wittenberg bought it, and Starcher continued to teach at the studio. However, Wittenberg closed the studio after a few months.
Starcher missed teaching and started teaching classes in the basement of her home. It started with one student and multiplied from there until, finally, her parents decided that buying the studio would be the perfect solution. Starcher taught classes in her parents' home for about six months.
"I think it's been a really good thing for her," Linda Carver said. "Any kid that stays involved with something whether it's dance or something else is less likely to get into any kind of trouble."
Now, Starcher wouldn't trade teaching for anything.
"I love teaching," she said. "I wouldn't keep doing it if I didn't. Sure, I miss the dancing side sometimes, but I would rather teach."
Starcher still has some of the same students she did when she started teaching classes. She has had the opportunity to see some of the students she teaches grow and develop both inside and outside of classes.
"Some of my kids have been with me a long time," she said. "They seem to walk differently than the other kids. They are very confident and could do anything they want.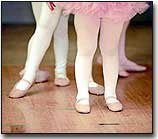 "I love knowing that I have taught these kids the things they know."
Her mother also enjoys the time she spends with Star Struck.
"It's been fun watching the little kids grow up through high school," Carver said.
Starcher has a wide variety of experience as a dancer and as an instructor. Starcher started taking classes about 20 years ago. She participated in national competitions, so she understands what her students are feeling and thinking as they enter their own competitions.
Starcher went to nationals, starting when she was in junior high school until she was a junior in high school.
"She won lots of first places and some seconds," Carver said.
After high school, she was enrolled in the dance program at the University of Missouri-Kansas City for a year. Then, she attended the University of Kansas for a semester. She no longer dances, though.
"I love to teach and I like to dance," Starcher said.
Starcher's mother knows how much Starcher enjoys Star Struck.
"It's been rewarding seeing her grow up with dance and take over a business," Carver said. "I can see how much she enjoys it working with the kids."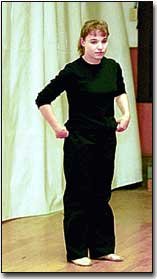 Most recently, some of the Star Struck students competed in the National Acrobat Competition Nov. 12 at Penn Valley Community College. All girls who competed placed. The studio also received a few overall awards at the competition.
Starcher said about 25 of the students will compete at a Jan. 4 tumbling competition. January is also when dance competitions start.
"We like to give the kids a lot of opportunities to perform," Starcher's mom said.
More opportunities should be provided this year.
"I want to get them more involved with stuff," Starcher said. "I am trying to do more competitions than we have in the past."
Starcher said she is really excited about the dance competitions coming up.
"We went and did really well at the tumbling competition," Starcher said. "I look forward to going back again and trying new stuff."
Starcher would also like to see her studio top last year's performances at the national competition.
Last year the studio finished third overall.
"It's really good because we are a small dance studio," Starcher said. "I only let the best kids dance."