It's toddlers times three at this household
This year, it's Jingle Bells times three at the home of Mike, Becky and Maggie Derzinski where triplets Jon, Joe and Jake are on the move.
As the 17-month-old boys decorate the Christmas tree, Jon toddles to the nearby stereo and turns on holiday music. A few moments later, while Jake attempts to put a Santa ornament in his mouth and Joe precariously leans over the edge of a cardboard box, fishing for decorations, Jon turns off the Christmas music and turns on the TV.
Sister Maggie, 9, referees the decorating, making sure the ornaments she hands them wind up on the tree not in their mouths. Meanwhile, their mother, Becky, who just returned from grocery shopping, rearranges the refrigerator to squeeze in four gallons of milk. Seeing her, Jake heads to the kitchen where he takes a bottle of pancake syrup from a grocery bag and puts it in the refrigerator.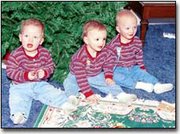 Becky Derzinski thanks him for his help and says, "Normally, I probably wouldn't be teaching them to work this early, but where there's three of them, I need all the help I can get."
Time for the parents of triplets is now more precious than ever. Becky's husband, Mike, helps her with the children. A welder, Mike worked locally before the trio were born.
"We had to have some better benefits with these guys," she said. "He had the opportunity to work for GM, so he took it."
"These guys," as she refers to them, consume not only a lot of time, but also diapers about 100 of them a week and they require a lot of clothes.
When the trio go out in public, they're dressed alike.
"I have an aunt who is awesome and she buys clothes for them that match," Derzinski said.
As one would imagine, when the boys are dressed alike, it's especially difficult to discern who is who.
Maggie has the formula down pat:
"Jon doesn't have much hair and he has a blue binky," Maggie said. "Jake has a red binky and lots of hair, and Joe has a little bit of hair and he sucks his thumb and carries a blankie but the blankie has to have a satin edge on it or he won't suck his thumb."
Along with the necessary diapers, clothes and binkies, there are the three obligatory high chairs standing side by side. On the front porch is a three-trailer wagon for Becky to pull the boys in when they walk to town, and a Suburban in the driveway includes three car seats anchored side by side.
Even though traveling and shopping with triplets is time-consuming, Derzinski finds ways to engineer her way around.
For instance, some larger stores have carts that will seat three children. Derzinski knows them by heart.
"The Wal-Mart in Lawrence has one, the Wal-Mart in Leavenworth doesn't," Derzinski said.
Because she has so seldom left the children, Derzinski said leaving them isn't easy, even when she does find a reliable sitter who can watch three toddlers at once.
"It bothers me to think that the boys might cry and be upset when I was gone," she said.
The boys were born on July 8, 1999, just about a year after she gave birth to a full-term daughter who died.
To increase her chances of becoming pregnant again, Derzinski took Clomid.
"They told us we'd have a 6 percent chance of having twins," Derzinski said. "Nobody said anything about triplets."
Mike Derzinski's take on it is that life is busier than before.
"It's just that there's always something going on," he said. "It's always one thing or another, whether it's work or being with them. But I do miss them when I'm gone."
And now, as Christmas draws near, the triplets are learning more about the holiday every day. Becky Derzinski said life will be more peaceful if the children receive identical gifts. That way, she said, they don't fight over certain toys.
And as for Derzinski, there's only one item on her Christmas list.
"A full night's sleep," she said.