Karate inspires local student
Jake McGhee's heard all the nicknames Karate Kid, Kung Fu, Karate Boy.
But the 13-year-old Tonganoxie Junior High School eighth-grader just shrugs them off. He's so focused on and devoted to American Kenpo Karate that he doesn't mind that his friends tease him on occasion.
These days, Jake is flying high. About two weeks ago, he earned a junior black belt after a grueling three-day physical and knowledge test in Albuquerque.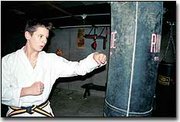 "It gives you a sense of accomplishment," said Jake, whose karate workouts started six years ago. "It says you've done something for your life. I like pain. I like the physical tests."
Those tests included pushups, sit-ups, squat thrusts, self-defense responses, springs, kicks and punches all at an altitude of 10,500 feet.
"Everything burns your legs," he said. "After you get done with all of that, you get to take your victory run of two and a half miles."
Not only did Jake excel at those tests, but he also did well in written and oral exams and on a report on "Breaking the Chains of the Ancient Warrior."
Despite the intensity of the competition, Jake held tight to his confidence.
"I knew I'd get it," he said.
When he's 16, Jake will be eligible to earn his adult black belt. His 13th birthday is Feb. 22, and Jake is confident that three years will be more than enough time to achieve that goal.
"It usually takes two years to get a black, so I'll have another year to wait," he said.
Despite his strong belief in himself, Jake is an engaging, likable youth.
Twice a week, he travels to classes in Overland Park, and then once a week to Westport for a kickboxing workout. He also participates in national and regional competitions.
"At the tournaments, there's lots of kids patting each other on the back," said Shelly McGhee, Jake's mother. '' Here are all these people doing all these fun, positive events."
She said she and Jake's father, Dan McGhee, want to provide him with a variety of choices.
"We just wanted to offer him anything that's positive, so when he's older, he has something to do," she said.
Jake's attraction to karate actually began with his father.
"He had a big influence over that," Jake said. "I saw him training when I was little, and thought it was really cool."
For Jake, his hard work in karate has added another dimension.
"You go past the breaking point," he said. "It's all mental. I'm not even there when I'm doing it. I'm gone."
Karate isn't Jake's only area of expertise. He's a straight-A student.
"He knows when he gets home that's the first thing he has to do homework," his mother said.
And he played A-team football last fall.
"He got more bruises in football than he ever did in karate," his mother said.
Next year, he thinks he switch to soccer. He also loves tennis, golf, track, wrestling and swimming.
But for Jake, there's always one constant.
"God is the most important thing," he said.