Bobcats stop Tonganoxie
Basehor Linwood's inside-outside game too much for team
Going into its Dec. 19 game against Basehor-Linwood, the Chieftain boys basketball team knew the Bobcats would be tough to handle down low.
Although the Bobcats' 6-foot-5 senior Travis Fouts was able to score 16 points in the team's 57-47 victory over Tonganoxie, the Bobcats had to go outside to do it.
Inside, the Chieftains were ready especially 6-foot-5 junior Bryan Gurss.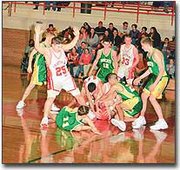 "I had really challenged Bryan before the game to step it up a little especially on the boards," said coach Mike Webb.
Gurss responded by grabbing 14 of the team's 24 rebounds in the game, including eight boards on offense.
Although they held their own inside, the Chieftains couldn't find an answer for the 6-foot-1 Brandon Fisher, who hit Tonganoxie for 19 on hot outside shooting.
From the very beginning the Chieftains were fighting an up-hill battle.
Fouls hit the Chieftains fast and hard, with the team getting called for 10 fouls in the first quarter alone two apiece for Gurss and Scott Breuer.
That sent those two key players to the bench early.
"With our type of offense we have a lot of movement," Webb said. "I just felt like we were getting some calls against us, but they were doing the same thing."
Even after that bumpy start, the Chieftains held on, only down 9-11 after one.
In the second quarter, the Chieftains committed no team fouls and continued to pace the Bobcats, going into the locker room down by five, 22-27.
The Chieftains were 5-5 from the stripe in the first half. The team hit 9-11 for the game. The Bobcats went to the line 24 times, but hit only 11.
After being down by as many as 10 at some points in the first half, the Chieftains rallied after the break, knotting the score at 38 by the start of the fourth quarter.
That momentum seemed to be carrying into the final quarter, and the Chieftains found themselves with a three-point lead with four minutes remaining.
"We had a three-point lead, we had momentum, we had the ball," Webb said. "But then we came down and took some quick shots made some poor decisions and they were right back in it."
Bobcats took advantage of the Chieftains' mistakes, outscoring the Chieftains the rest of the way to take the win.
Breuer led the team in scoring with 11. Kyle Rodell finished with 10.
"The kids all played hard, and overall I'm pleased," Webb said. "But you're never happy to lose a game."